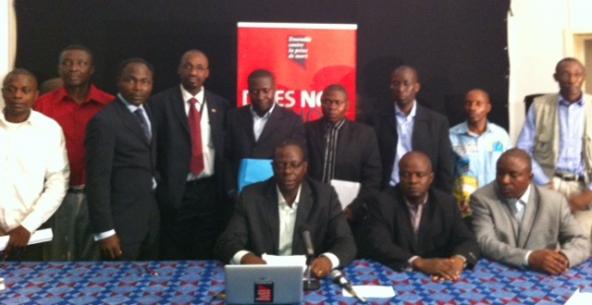 Abolitionists of Central Africa met in Kinshasa
Africa
A very sensitive question in the region
An interregional conference against the death penalty in Central Africa was held on 30 and 31 March in Kinshasa, DRC.
Two members of the World Coalition, Together against the Death Penalty (ECPM) and the Congolese association Culture for Peace and Justice (CPJ), organized the meeting in partnership with the French Ministry of Foreign and European Affairs, the International Organization of the French Speaking Countries and the Spanish government.
This event aimed to advance the regional abolitionist movement and to break the isolation of some African organizations while promoting the implementation of joint regional strategies for the abolition of capital punishment.
Today out of the 57 African countries, 16 states continue to apply regularly the death penalty, 20 have abolished entirely and 21 no longer use it.
The question of the death penalty is still very sensitive in the region, which recorded 42 executions and more than 650 death sentences in 2010. This is particularly the case in countries that have experienced massive civil unrest (Democratic Republic of Congo, Sudan, Uganda, etc..).
Official announcements which confirm the trend towards abolition
With a hundred participants, from institutional actors to civil society representatives of 10 African countries, the conference started by raising public awareness during a plenary session held on Friday 30 March. Several national and international officials and abolitionist experts addressed different topics related to the death penalty, including abolition strategies.
On this occasion, Alexis Thambwe Mwamba, Foreign Minister of the DRC officially announced that his country had an irreversible moratorium on executions. The Minister of Justice Luzolo Bambi said that he was in favor of a "responsible" abolition that should go hand in hand with a reform of the Congolese prison system to ensure that the sentences were dully carried out.
These official announcements confirm the trend towards abolition in the Democratic Republic of Congo which has had a moratorium on executions since 2003. The 2006 Constitution stipulates in Articles 16 and 61 that every human being has the right to life.
The creation of the Central African Coalition against the Death Penalty
On Saturday 31 March, during a statutory meeting, Central African abolitionists created the Central African Coalition against the Death Penalty which includes key countries in the region (Cameroon, Congo – Brazzaville, Burundi, Uganda, Kenya, CAR, DRC, Chad and Tanzania).
During the meeting, Raphael Chenuil-Hazan, Director of ECPM said "after the abolition of slavery and torture, the abolition of the death penalty has become a universal struggle for humanity. DRC must have a strong political will to move towards abolition, as many neighboring countries have already abolished the DRC (Angola, Burundi, Gabon, Rwanda). "
Lievin N'Gondji, president of CPJ, based in Kinshasa, called on "the Congolese MPs to legislate against the death penalty and follow the example of Burundi, Rwanda and Uganda because the abolition of the death penalty is one of the victories that humanity must win."
Read the final declaration of the conference (in French only)
Read the press release (in French only)