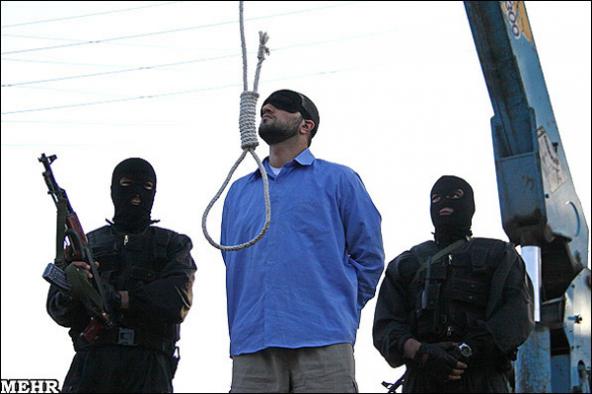 Outrage as Iran's execution figures explode
International standards
The International Campaign for Human Rights in Iran counted 121 executions for the six-week period, excluding the secret executions that routinely take place in prisons around Iran. The total number of recorded executions in 2009 was 388 (statistics for 2010 have not yet been released by Amnesty International).
Mahmood Amiry-Moghaddam from World Coalition member organisation Iran Human Rights has stated that the "reason for the increase in the number of the executions is probably due to[the] Iranian authorities' need to spread fear among the people more than ever".
He was referring to the risk of anti-regime protests as the economic situation deteriorates after recent economic reforms "have led to a sharp increase in prices" and at a time where there is "increasing unemployment".
Iran's use of executions as a political silencer has historical precedent. According to Amnesty International's 2009 report, between the presidential election on 12 June 2009 and the inauguration of Mahmoud Ahmadinejad for a second term as President on 5 August, there were 112 recorded executions.
According to Amiry-Moghaddam, "Iranian civil society (which is mainly underground or in exile right now) has been trying to give attention to these executions. We have had several protest demonstrations around the world. There have also been protests in Afghanistan and Iraqi Kurdistan in front of the Iranian embassies. We will do more in the weeks to come."
In violation of international law
Reports from World Coalition member Human Rights Watch show that Iran is also failing to meet the internationally recognized minimum standards for those facing the death penalty. People are being tortured to confess, denied access to a lawyer, tried summarily and juveniles are being sentenced to death.
Ashkan Miri, a teenager, was sentenced to death in early February for the accidental death of another teenager during a brawl. Ashkan was 14 at the time of the incident.
Iran has ratified the International Covenant on Civil and Political Rights (ICCPR) and as such is bound to its article 6, which restricts the use of the death penalty to the most serious crimes. This has been accepted at the international level to mean crimes that result in the death of a person.
However, a majority of those executed were convicted of crimes that did not involve death. The Iran Foreign ministry states that 80% of those killed were drug smugglers. At least one man was executed for apostasy and at least 13 were executed for moharebeh ("enmity against God").
International pressure mounts
The international community was slow to react to Iran's surge in executions. According to Amiry-Moghaddam, this gave the Iranian regime the impression that "they probably can go ahead [with the executions]".
Of late, however, international pressure has mounted, with the widely reported execution of Dutch citizen Zahra Bahrami arousing particular attention. Bahrami was charged with drug trafficking and the Netherlands froze diplomatic contacts following her execution in January.
The UN's High Commissioner for Human Rights, Navi Pillay and Catherine Ashton, the European Union's top foreign policy official, have called for an immediate moratorium on executions after Tehran failed to grant Bahrami a fair and transparent trial.
The UN Special Rapporteur for extrajudicial, summary or arbitrary executions, Christof Heyns, and the Special Rapporteur on the independence of judges and lawyers, Gabriela Knaul, are calling on Iran "to immediately declare a moratorium on the death penalty in view of the gravity of the situation and the regular disregard of due process guarantees".
US State Department spokesman Philip Crowley urged Iran to put a halt to executions stating Bahrami's "execution is one of dozens carried out in recent weeks amid serious questions about the motives of the Iranian government and whether these prisoners were granted their rights under the International Covenant on Civil and Political Rights".
The USA executed juvenile offenders until 2005 in contravention of the ICCPR.