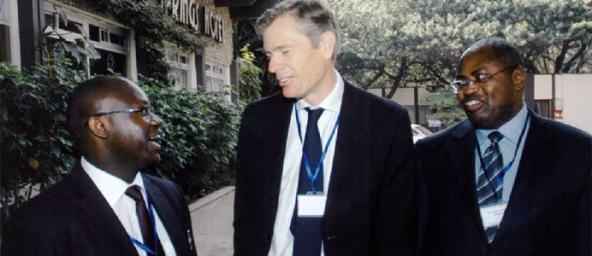 Progressing towards abolition in East Africa
Africa
The conference brought together approximately 60 participants including members of the Supreme Court of Kenya and Uganda, retired Chief Justice of Tanzania, members of the Constitutional Court of Kenya, members of the Court of Appeal of Uganda, members of the High Court of Kenya and Uganda, magistrates, Prison Commissioners of Kenya and Uganda, lawyers and law associations, academics, members of civil society from Kenya, Uganda, Tanzania and Rwanda, the media, and members of the international donor community (the European Union and the Foreign & Commonwealth Office).
The aim of the roundtable was to promote progressive abolition of the death penalty in the region, and to identify best practices, challenges and opportunities for reform in the criminal justice system.

Growing prison population
Although Kenya has not carried out an execution since 1987, Uganda since 2003, and Tanzania since 1995, the courts are still sentencing people for death, including for the crimes of murder, treason and aggravated robbery, to name a few. To date, there are 487 death row inmates in Uganda, 1,438 in Kenya, and 549 in Tanzania. Problems with a growing prison population, including the use of excessively long sentencing and the use of whole life sentences, are creating serious overcrowding concerns for prison staff.
PRI's death penalty project manager Jacqueline Macalesher spoke on the subject of global trends towards abolition, and reinforced the important role that civil society organisations have in effecting change on the death penalty and within criminal justice reforms. The British High Commissioner in Kenya, Rob Macaire (photo, centre), raised concerns over the worrying trend in Kenya, and elsewhere in the region, of extrajudicial killings, and how this undermines the rule of law.
"An eye for an eye"
The great need for more work on abolition amidst strong opposition is demonstrated by some reactions conveyed in the region's media. For example, the Nairobi-based Africa Review quoted Uganda's Principal Judge Yorokomu Bomwine as saying that "it should be an eye for an eye". "As an opinion leader in my community, a person who takes away life of another in such brutal manner should be paid in same way," Mr Justice Bomwine (photo, right) told the paper.
Following a lively, open and collaborative debate, conference participants agreed eight key recommendations, including to progressively reduce death penalty applicable crimes to only 'the most serious', abolish mandatory death sentences, establish sentencing guidelines for capital cases, to recognise the rights of victims of violent crimes and establish a compensation fund, to undertake civic education on abolition, and to tackle overcrowding in prisons.
This conference is part of a series of events being held under PRI's current programme of work on the abolition of the death penalty and alternative sanctions that respect international human rights. The programme of work is being carried out in 19 countries in five regions: the Middle East and North Africa, Eastern Europe, South Caucasus, Central Asia and East Africa.
The programme is supported by the European Union's Instrument for Democracy and Human Rights (EIDHR).