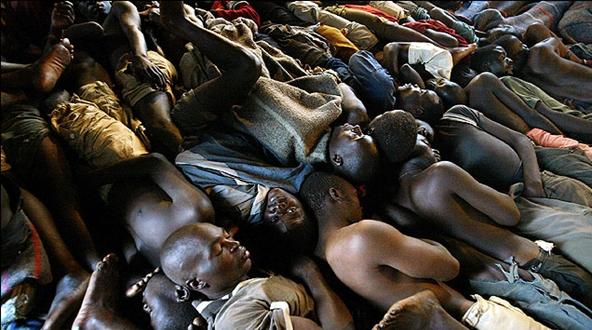 Asia still top executioner but more divided than ever: Hands Off Cain Report
Statistics
"Asia is responsible for 98.4% of the executions worldwide, with the 3 main executioner countries being China, Iran and North Korea, all illiberal countries where official information about the use of the death penalty is shrouded in secrecy. This explains how the abolition of the death penalty is linked to the battle for democracy and rule of law," said Elisabetta Zamparutti, who supervised the publication of the report.
Top 3 executioners: China, Iran and North Korea
Relying on the number of death penalty cases reviewed by the Supreme People's Court (SPC), Hands Off Cain estimates that about 5,000 executions took place in China in 2010, representing 85.6%, of the world total.
In 2007, a legal reform required that every capital sentence be reviewed by the SPC. In 2010 only, it dealt with 12,086 cases of various types.
Although China still executes thousands of people, it has also reduced the scope of the death penalty: "On February 25, 2011, China dropped the death penalty for 13 non-violent crimes and banned capital punishment for offenders over the age of 75 in a move seen as symbolic but unlikely to significantly reduce executions."
Referring to Iran Human Rights' report, Hands Off Cain confirms that Iran put at least 546 people to death. It also stresses that in violation of international standards, Iran conducted public executions and "Iran was the only known country to carry out the death penalty in cases involving those who were minors at the time of their crimes", at least 2 in 2010 and 3 in 2011.
Consistent with Amnesty International figures for 2010, Hands Off Cain reports that at least 60 executions took place in North Korea. Worried about increasing public executions, the report states that "in a bid to tighten controls amid the designation of North Korean leader's son Kim Jong-un as his father's heir, Kim Jong-un has called for "gunshots across the country". Kim Jong-il did exactly the same thing when he took power. "
Significant political and legislative steps towards abolition in the region
Despite those worrying figures, positive steps were taken by several Asian countries. During the reporting period, the government of Thailand has declared its intention to abolish the death penalty, as announced in the human rights plan for the years 2009-2013.
In January 2010, Mongolia's President announced a moratorium on the death penalty and a law came into effect in Viet Nam eliminating the death penalty for eight crimes.
In Tajikistan, a Working Group on the Abolition of the Death Penalty was established in April 2010.
Indonesia has not executed anyone since 2008 and Hands off Cain explains that "there has been a discernible shift in attitude. Perhaps the best explanation for the new reluctance to carry out executions lies with a seminal ruling by the Constitutional Court in 2008, saying capital punishment should be used sparingly and those on death row should be given the chance to rehabilitate."
In 2010, for the sixth year in a row, India has not carried out a death sentence. On February 10, 2010, the Supreme Court held that long incarceration and socio-economic factors leading to crime are relevant and mitigating considerations for commuting a death sentence to life imprisonment. In 2010, 13 commutations were decided by Indian president Pratibha Devisingh Patil and Harm Reduction International reported that in 2011 Bombay High Court struck down the mandatory death penalty for drug offences.
More recently, in May 2011, Myanmar's new President commuted all death sentences to life imprisonment.
The 2011 Report on the death penalty worldwide was presented at the headquarters of Hands Off Cain in Rome on August 4, 2011 with the presence of Italian Foreign Minister Franco Frattini and Education Minister and Transitional Tunisian Government spokesperson Taïeb Baccouche.