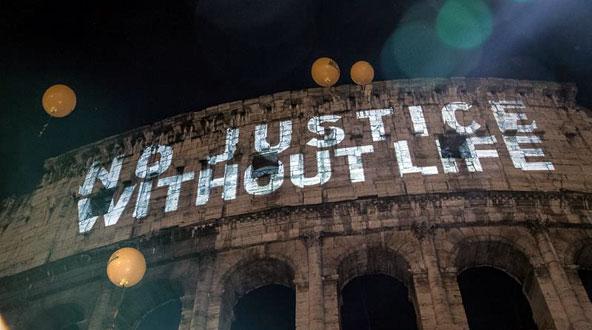 Justice ministers meet as Colosseum lights up to say yes to life
Abolition
World Coalition member organization, the Community of Sant'Egidio hosted the 7th edition of the International Conference of Ministers of Justice in Rome on November 27, which issued a strong "Yes" to respect for life in opposition to the death penalty.
Delegations of governments and parliaments also attended the meeting.
Twenty countries from Africa, Asia, Latin America and Europe were represented. Representatives for Switzerland and the European Union, which sponsored the conference, and for the UN High Commissioner for Human Rights, also took part, as did one for Connecticut, the last U.S. state to have abolished the death penalty in April this year.
Over the years such conferences of justice ministers have been unique opportunities for the development of strategies to support abolitionist processes already in place or yet to be started in the participating countries.
That is what happened in recent times in Burundi, Gabon, Benin, Togo, Uzbekistan, Kyrgyzstan, Kazakhstan and Mongolia, where discussions started at Sant'Egidio were a significant impulse in their move to the abolish the gallows. The conference is a true laboratory of ideas and projects that governments and civil societies take from Rome and put into practice in their home countries.

Discriminatory and racist
The event was also an opportunity to take stock on the situation of abolitionist forces in the world. French Justice Minister Robert Badinter recalled that when he removed the death penalty from the books in 1981, France was only the 37th country to abolish the death penalty, "but now over 150 states have abolished or suspended it". Badinter also highlighted the often discriminatory and racist character of the death penalty. "I've never seen the son of a banker or a great lawyer end up on death row," he added.
This was echoed by Mario Marazziti, spokesman for the Community of Sant'Egidio and Vice President of the World Coalition Against the Death Penalty, who presented American research showing that of the 15,978 sentences handed until 1989 in US history, only 30 have concerned white criminals whose victims were black.
On the issue of miscarriage of justice, Connecticut academic and senior police officer George Kai said: "You can make terrible mistakes and when an innocent person is killed, the error is irreparable."
Good news from Africa
The minister of Zimbabwe, Theresa Makone, announced that her country had not executed anybody for 32 years and she stressed her personal opposition to a justice that would claim the right to kill. The delegate from the Central African Republic, Dominique Panguindji, is pushing for the swift formation of a parliamentary committee that would support a bill for the removal of the death penalty in law.
Such a journey resembles the one Mongolia has embarked on two years ago to abolish the death penalty. After the Asian nation acceded to the United Nations Protocol on the abolition of the death penalty in June, the Parliament has presented a bill that would amend the Criminal Code and eliminate the death penalty. The Democratic Party deputy Odontuya Saldan committed herself to accelerating the process after she returns from Rome.
Constitutional expert Valerio Onida reiterated that there is no exception to the right to life. Yet appeared to exist for Marat Rakhmanov for months after he was wrongly sentenced to death in 2001 in Uzbekistan. He came to Rome and told the ministers of his anguished experience in the dungeons of Samarkand, dark places of unspeakable torture where the end could be decided at any time, without notice to himself or to his family.
Illuminating monuments to raise awareness
Two days after the meeting, the annual celebration Cities for Life took place including an event at Rome's Colosseum. The initiative, started by Sant'Egidio, brought together more than 1,600 cities worldwide who officially said "No" to the death penalty by illuminating their most characteristic monuments and organizing public forums.
The annual event aims to raise the awareness of civil society at the global level and to support the growing consensus around the abolition of capital punishment. The campaign is organized In memory of the first fall of the scaffold in Europe, which took place in the Grand Duchy of Tuscany on November 30, 1786.
Music alternated with readings of works by Dostoevsky and Hugo and testimonies of exonerated death row prisoners including Fernando Bermudez and Shuja Graham from the US. The event saw the presence of strenuous activists such as Dave Atwood, who has been fighting to end to executions in Texas for years, and Tamara Chikunova, a Russian lawyer who overturned more than 90 death sentences in Uzbekistan before the death penalty became history there on January 1st 2008.
Some Ministers of Justice joined the event and reiterated their commitment to cancel capital punishment in their countries. The lighting of the Coliseum this year was dedicated to Connecticut, the 17th U.S. state to have abolished the death penalty.