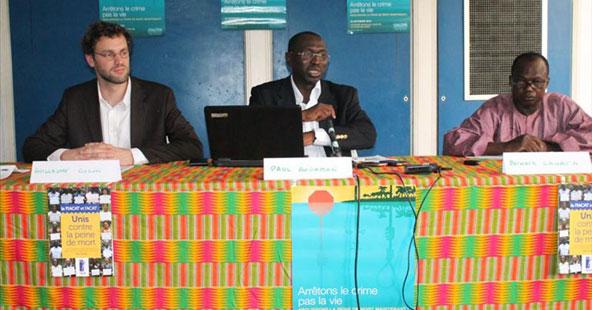 Ivory Coast invited to ratify the UN Protocol on the death penalty
International standards
FIACAT and its Ivorian member organisation ACAT Côte d'Ivoire conducted a mission between 18-21 November, 2013 to follow up on the African Commission on Peoples' and Human Rights' (ACHPR) recommendations to the Ivory Coast in October 2012.
The first recommendation invited the Ivorian government to "take the necessary steps to ratify the Second Optional Protocol to the International Covenant on Civil and Political Rights on the abolition of the death penalty and implement it in national law".
Ivory Coast had presented its initial report on the implementation of the African Charter of Human and Peoples' Rights to the ACHPR at its 52nd session in October 2012.
On that occasion, FIACAT and ACAT Côte d'Ivoire submitted an alternative report in which they recommended the ratification of the Protocol to confirm Ivory Coast's international commitment in favour of the abolition of capital punishment.
The Commission said it was preoccupied with the non-ratification of the Protocol and the "presence of the death penalty in the Penal Code despite its abolition in the Constitution". The Commission therefore recommended that the Ivory Coast ratify and domesticate the Protocol to solidify the abolition of the death penalty.
Willingness to ratify
FIACAT and ACAT Côte d'Ivoire held meetings with the justice ministry, the National Human Rights Commission, the African Union, Ivory Coast's civil society federation, the human rights section of the UN mission to Ivory Coast (ONUCI), the foreign ministry and the French embassy to expose their concerns.
Both ministries expressed willingness to ratify the Protocol. A review committee has also been appointed to reform the Penal Code and the Criminal Proceedings Code and bring them in line with Ivory Coast's international commitments and remove all references to the death penalty.
The other partners offered to support FIACAT and ACAT Côte d'Ivoire's efforts for the implementation of the ACHPR's recommendations when they meet the Ivorian authorities.
FIACAT and ACAT Côte d'Ivoire stressed that the Second Optional Protocol to the ICCPR should be ratified as soon as possible, especially in advance of the Ivory Coast's Univesal Periodical Review of human rights scheduled for next spring in Geneva.