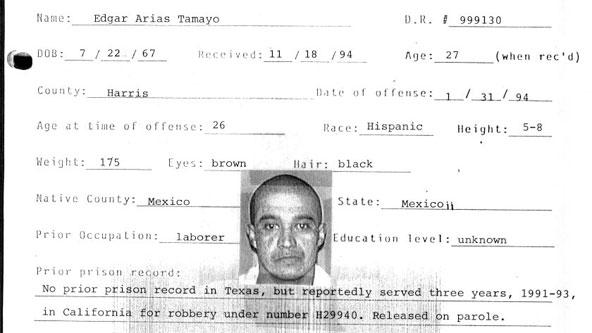 Mexico fights on after Texas illegally executes one of its nationals
International standards
Edgar Tamayo Arias received a lethal injection in Texas on January 22 after the US Supreme Court rejected last-minute appeals citing his mental health and violations of his consular rights while he was being prosecuted.
The Mexican authorities were not notified of Tamayo's arrest as he stood accused of murdering a policeman in Houston 20 years ago. In 2004, the International Court Justice (ICJ) ruled that the US violated the Vienna Convention on Consular Relations in his and other cases known as "Avena and 50 other Mexican nationals".
Although the US federal government has committed to implementing the Avena decision ever since, legislation has yet to be passed to improve consular notification and individual states have maintained some of the death sentences overturned by the ICJ.
The Mexican embassy to the US's legal counselor Víctor Uribe explains how his country (which abolished the death penalty in 2005) is responding to cases such as Tamayo's.
What action will the Mexican authorities take following the execution of Edgar Tamayo?
No further action will be taken about this case after the execution, but Mr Tamayo is not the only Mexican national facing the death penalty whose rights to consular assistance have been violated by US authorities.
We are now focusing on other cases: the decision of ICJ in the Avena case involved 51 Mexican nationals, three have been executed and others have left death row, but many remain. Unfortunately we have found out that another Mexican has received an execution date for April 9.
What are the avenues you can pursue in those cases?
The intervention of Mexico is solely based on the Vienna Convention on Consular Relations. In another case, the US Supreme Court ruled that the Avena decision was not binding on individual States. We are therefore seeking compliance by supporting legislation to be passed in the US Congress to implement the Avena decision by law.
Do you have friends on this issue among US authorities?
Nobody disputes the fact that the US has to comply with the ICJ's ruling, including the Obama administration. Senator Patrick Leahy of Vermont has been supporting this view and introduced a bill on consular certification compliance in 2011, but it didn't pass. There have been other attempts in the past two years to attach legislative language on this issue to other bills. We have contacts with their supporters in Congress and in the administration, send letters, hold meetings with key senators and congressmen to explain how important this is to Mexico and to ensure the protection of US nationals abroad in return.
What difference can timely consular notification make in capital cases?
We are very efficient. Mr Tamayo was convicted of the murder of a policeman in Harris County, which passes the highest number of death sentences in the US. We were notified of his case just one week before his trial and his attorney spent just 16 hours preparing his defence instead of the hundreds of hours you would expect in such a case.
In a separate case, another Mexican national was also accused of killing a policeman in Harris County. The Mexican authorities were notified well in advance and were able to appoint lawyers and psychiatrists, to gather evidence of his medical history in Mexico and to fly in witnesses from there. That person received a life sentence. Consular assistance is a matter of life and death.
You attended the World Congress Against the Death Penalty in Madrid last year to present your action to the wider abolitionist movement. What can those who oppose the death penalty around the world do to help you?
They can support the efforts of many organisations that send letters and voice their opposition to the execution of people whose rights have not been respected. This is about respecting the rule of law: a court decision has not been respected. Any citizen in the world can protest against that.