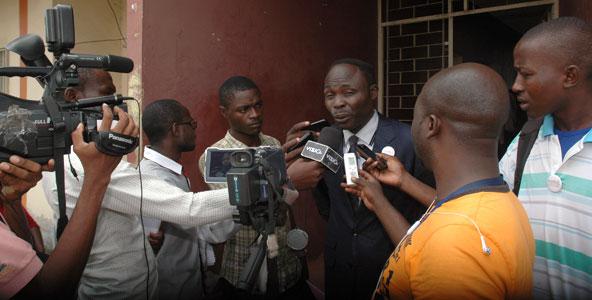 Working with journalists to expose the death penalty's flaws
Advocacy
Rafael Lenín López, president of the Association of Puerto Rican Journalists, told abolitionists that his association's members were broadly supportive of the fight against the death penalty.
"I have never seen a journalist call for the death penalty against the accused in a criminal case in our country," Lopez said.
Journalist and Worldcoalition.org editor Thomas Hubert gave participating activists some tips on what journalists want, starting with the answer to five essential questions: what, where, who, when and how/why. If abolitionists can provide such facts on any news story related to the death penalty and can deliver them in simple, jargon-free language and short sentences easily inserted into press article or broadcasts, journalists will be grateful and will contact them again, Hubert said.
Both journalists explained that anti-death penalty campaigners should also organise their discourse in the inverted pyramid format used in the media, starting with the most important information and leaving secondary or background details for the end of their discussion with a journalist – especially when taking part in a live broadcast when time is short and difficult to manage.
"After I interview an activist, I may have to broadcast my report in 20 seconds – that's the reality," said Lopez.
"If you are asked the question why the World Coalition is visiting Puerto Rico, and you start your answer with a list of reasons why the World Coalition is a great organisation, the journalist will cut you off," Hubert added.
Choose an angle and stick to it
As the death penalty is a vast topic with complex ramification, Hubert suggested that abolitionists choose a particular angle to get journalists interested in a restricted, newsworthy part of the issue. He quoted Penal Reform International's training guide for journalists on reporting on the death penalty, which includes many suggestions for such angles.
Discussions with local and international anti-death penalty campaigners yielded thought-provoking questions and examples related to interactions between abolitionists and the media.
Mario Marazziti of the Community of Sant'Egidio stressed that audiences and journalists often did not care about the death penalty until it was connected to another issue. "For example, they care about torture, and examples of botched executions can generate interest," he said.
Jacky Hortaut of the Free Mumia! French Support Group offered a strong example of collaboration between a campaign group and the media, in which activists exchanged access to sources for increased exposure. He explained that a journalist from French public radio joined his group on a tour of the US, collecting numerous interviews and visiting key locations. The journalist's station then dedicated a full day to broadcasts from her trip, focusing on the case of former death row prisoner Mumia Abu-Jamal.
Lopez encouraged all activists and journalists to engage in such collaboration, while respecting the media's need for balance coverage. "Each death penalty case is a disgrace, but it is also an opportunity for us to educate and strengthen public opinion against such atrocity," he said.
Attached documents