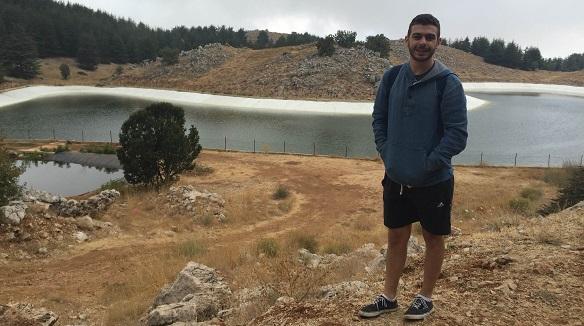 If I do not accept that a terrorist kills me, I do not accept either to kill a terrorist
World Day
World Coalition: What is your experience as an activist against the death penalty?
Khachig Ghosn: During my university studies, I did an internship with the Association of Justice and Mercy (AJEM) for four months. It works in prisons in Lebanon and helps people who have been incarcerated but who have neither a family nor a job. They come to this site to empower themselves. This association also fights against the death penalty, being the first one to organize interventions, marches and demonstrations on this topic in the country. Working there changed my perspective towards this dilemma. I understood that there are several factors that drive a person to a crime.
WC. How has changed your perspective on the death penalty after this internship?
KG. Before my internship at AJEM, I supported the death penalty. I thought it was right to kill a person who killed another. This experience made me more mature and more aware, especially after my visit to the central prison. I discovered that prisoners live in deprived conditions. After talking to some prisoners and ex-prisoners, I found out that they had problems at social, psychological, economic and relational level. They need an effective rehabilitation.
WC. What is the current situation of the fight against the death penalty in Lebanon?
KG. Unfortunately, in Lebanon steps are slow because it has been three years that we do not have a president and two years that the country suffers from the waste crisis, so people are moving to these problems.
WC. No execution has been registered since 2004, but Lebanon has not abolished the death penalty yet. Why?
KG. I think that the situation will change, but not in the near future, due to internal conflicts between politicians, who do not agree to find concrete solutions to the problems that Lebanon faces.
WC. Do you think that Lebanese society has changed his mind on the application of the death penalty in recent years?
KG. I think that society does its best to educate people on the abolition of the death penalty, but I do not see any changes.
WC. The subject of recently celebrated 14th World Day against the death penalty was terrorism. Do you think the death penalty can have a deterrent effect?
KG. I do not think there is a relationship between the two elements, because people responsible for brainwashing that are recruiting terrorists use smart ways to attract young people. Suicide bombers think that dying is a good thing.
I do not think that the society will react negatively against this, since Lebanon has been hit several times by terrorism. It's a little strange for the society to easily accept the idea.
WC. In relation to your experience, what do you think of the application of the death penalty for terrorists and why?
KG. I do not support the death penalty. If I do not accept that a terrorist kills me, I do not accept either to kill a terrorist. I think that terrorists need of rehabilitation rather than execution.