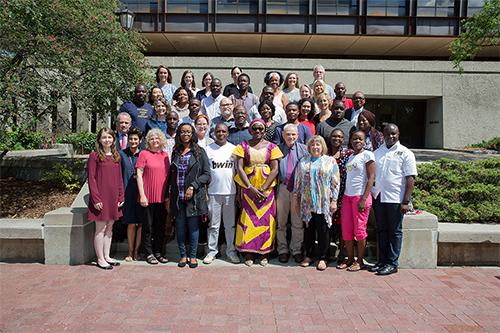 Makwanyane Institute Is Launched at Cornell Law School
Africa
The institute, named after the landmark 1995 case that abolished the death penalty in South Africa, was developed through the Cornell Center on the Death Penalty Worldwide, which became the first center of its kind in the United States when it was founded last year.
The visiting lawyers were trained by eighteen legal experts who led workshops on issues such as mitigation investigation, wrongful convictions, and techniques in interviewing clients. They also discussed cases they are litigating and collaborated on strategies to abolish the death penalty in their countries.

"This is a great project for a law school-to bring everything here and have Cornell be the host institution," said Sandra Babcock, a clinical professor of law who is the center's founder and faculty director. "Our goal is to provide African lawyers with the tools they need to save their clients' lives and bring about systemic change in the criminal justice system."

Babcock created the center after spending nearly a decade working on a project in Malawi to provide legal representation for death row prisoners. In 2007, Malawi abolished the mandatory death sentence for homicides, which meant that prisoners who had received capital punishment could be retried in court.

As a result of the project, the High Court of Malawi has held 150 resentencing hearings that resulted in 120 former death row prisoners being released, said Babcock, who worked with several Cornell law students on the cases. None of the remaining prisoners were resentenced to death and only one received a life sentence.

During her twenty trips to Malawi, Babcock said she was struck by the barriers to effective legal representation: the lawyers had no experience with the concept of mitigating evidence, they had received little training in basic courtroom skills, they were unaware of how mental health was relevant to capital sentencing, and court opinions were inaccessible because they are not published.

"The institute was born out of my observations of the situation in Malawi, and realizing that colleagues in other African countries were facing similar situations," she said.
Last year, the center received a $3.25 million grant from The Atlantic Philanthropies, founded by Cornell alumnus Charles F. Feeney '56, which has helped to support the institute.

Noel Brown, who practices general law in Nigeria, said he came to the institute to learn how to defend his clients more effectively and how to conduct research on legal precedents. What has complicated his work representing capital defendants is that Nigeria is one of two countries in Africa that still have the mandatory death sentence for crimes such as homicide, armed robbery, and kidnapping involving the death of the victim.

"It's an art," Brown said. "You have to learn how to navigate the complexities of the legal battleground in the court. Ordinarily, the law says the accused person is innocent until proven guilty, but in practice it's often like he's guilty until proven innocent."

Dziko Malunda, a prosecutor in Malawi, participated in the institute as a trainer, drawing on his experience as a former defense lawyer. Malunda also worked with Babcock on the resentencing project after Malawi abolished the compulsory death penalty.

"The institute will definitely make a difference," Malunda said. "I'm hoping in the long run, it will manage to build capacity of a group of lawyers so they can go back to Africa and fight for abolition of the death penalty altogether."