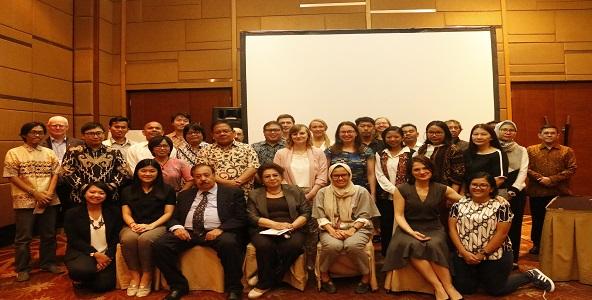 Dialogue on the death penalty during the 20th anniversary of the Reformasi
Asia
The National Conference on 20 Years of Reformasi: Crime & Punishment in Human Rights Discourse in Indonesia was held in Jakarta on May 8-9th, 2018, organized in partnership by Together Against the Death Penalty (ECPM), National Human Rights Commission (NHRC) and Anti-Death Penalty Asia Network (ADPAN).
On the occasion of the 20th anniversary of the Reformasi, period of changes and reforms, highlighting the end of the dictatorship since 1998, NGOs and associations representing local civil society met and organised this National Conference in order to establish a global overview of the use of the death penalty and its process in Indonesia.
A complicated legal context
The holding of such a conference has enabled local and international actors to highlight the real need in Indonesia to reform the judicial system, including the criminal point of view. This Conference demonstrated that everyone – lawyers, government representatives, civil society organisations, etc. – has a say in this judicial and criminal overhaul.
The reform of a new Criminal Code remains complicated and above all paradoxical. The government decided that alternative sentences to the death penalty would now be possible. However, while "grace" laws have been mentioned, under very restrictive conditions, special laws applying the death penalty, which surround crimes related to terrorism, drugs and corruption, seem to weaken this human dimension of potential clemency.
This paradoxical and uncertain law project is still an issue, especially between the instauration of 15 additional crimes punishable by the death penalty, opportunity to have a probation of 10 years before the execution and the opportunity to see its sentence commuted in sentence to life after this 10 years.
Lack of political representation
While executions resumed in 2013, for the past year and a half no executions were carried out. Such a conference could have marked a commitment to an official moratorium. However, the Minister of Justice appeared for only a few minutes and finally declared that it was not his prerogative to discuss the death penalty in such a forum.
Perhaps Indonesia's candidature to the United Nations Security Council carries more weight in establishing a moratorium on executions and sentences.
An active local civil society in need
Throughout this National Conference, lawyers' and legal aid organisations were honoured. Training helps these local organizations in their work. However, the lack of resources, particularly for legal aid, remains a major issue in the country.
Recommendations
During the closing of the National Conference various recommendations were made but strong commitments could not be made due to the lack of political representation. However, the following recommendations will enable civil society and relevant organizations to focus their work and advocacy.
– "The Ministry of Justice and Human Rights must provide numerous contributions and/or studies to the competent authorities in order to establish an official moratorium on the death penalty;
– It is important to review the penal system first;
– It is important to provide training for 'commercial' lawyers in order to create mass dissemination so that they could have 'human rights' perspectives;
– The issue of the death penalty has been the subject of a campaign by civil society, but it is still necessary among religious leaders because of the public perception that the death penalty is allowed in Islam;
– The abolition of the death penalty must be accompanied simultaneously by reforms of the prison system;
– The academic sector should not limit itself to study, reading, interpretation etc., but should also strengthen its empirical advocacy;
– Accentuate studies and research on the death penalty in Indonesia;
– Data on crime in Indonesia should be used;
– Everyone in Indonesia should question Indonesia's position on the abolition of the death penalty worldwide? Are we already involved in the recommendation through the UPR sessions?
– Cooperate with the National Human Rights Commission;
– What the Indonesian government must do to abolish the death penalty:
1. Diplomacy for a moratorium
2. leadership and procedure
– The Indonesian government must implement a moratorium on the death penalty to guarantee the right to life of Indonesian citizens both inside and outside the country."