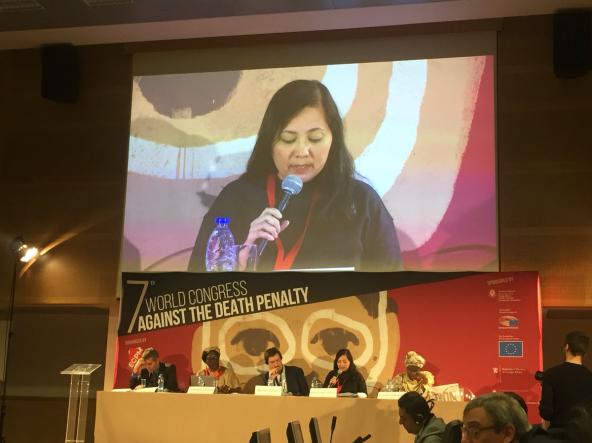 7th Congress – Preventing the resurgence of the death penalty
World Congress
2018 marked important victories for the right to life movement, with the abolition of the death penalty in Burkina Faso and Washington State (USA) where the state's Supreme Court declared it unconstitutional last October. But some States, which are currently either de facto or de jure abolitionist, are blocking the path to universal abolition and are considering reinstating the death penalty in their jurisdictions. Let's look back at the congress participants' reflections on protecting the right to life.
The right to life at the heart of international human rights law
The International Covenant on Civil and Political Rights (ICCPR), adopted in 1966 at the initiative of the United Nations Human Rights Committee, provides the basis for international advocacy for the right to life, protected in article 6. However, in this article the death penalty is not explicitly prohibited. It was not until the ratification of the Second Optional Protocol in 1989 that the legal vacuum was partially filled, urging the signatory states to the ICCPR abolish the death penalty.
However, 2018 marked a significant turning point with the adoption of General Comment No. 36, which clarifies the provisions of article 6 of the ICCPR to make the right to life a "supreme right".
A political instrumentalization of the death penalty
In Cameroon (where the death penalty is no longer carried out but continues to be handed down by judges) or in Mauritania, the fight against terrorism serves as a pretext for a more severe use of the death penalty at the cost of serious human rights violations. For example, minors are exposed to the death penalty because of their forced recruitment into certain small terrorist groups (such as the Boko Haram sect) due to a very flexible definition of the notion "terrorist" and the increased competence of judges.
In the Philippines, the abolitionist movement is vacillating between victories and setbacks, with the death penalty having already been abolished twice, in 1994 and 2006. The recent presidential elections saw the death penalty once again brought to the forefront, in a pure political strategy according to Karen Gomez-Dumpit, Commissioner of the Philippine Commission on Human Rights. However, the Commission's investigation, which is available on its website, reveals that 7 out of 10 Filipino citizens would favor alternatives to the death penalty.
Acting as a network
Emphasis was placed on creating a real synergy for the benefit of abolitionists. The resurgence of the death penalty jeopardizes the founding principles of the rule of law and fair trial, and risks once again impacting the most vulnerable populations: children, migrants, religious minorities. The World Coalition Against the Death Penalty has thus initiated an advocacy project specifically dedicated to the concerns of its members with regards to countries considering a return to the death penalty, in law or in practice.
Photo credits: Harm Reduction International