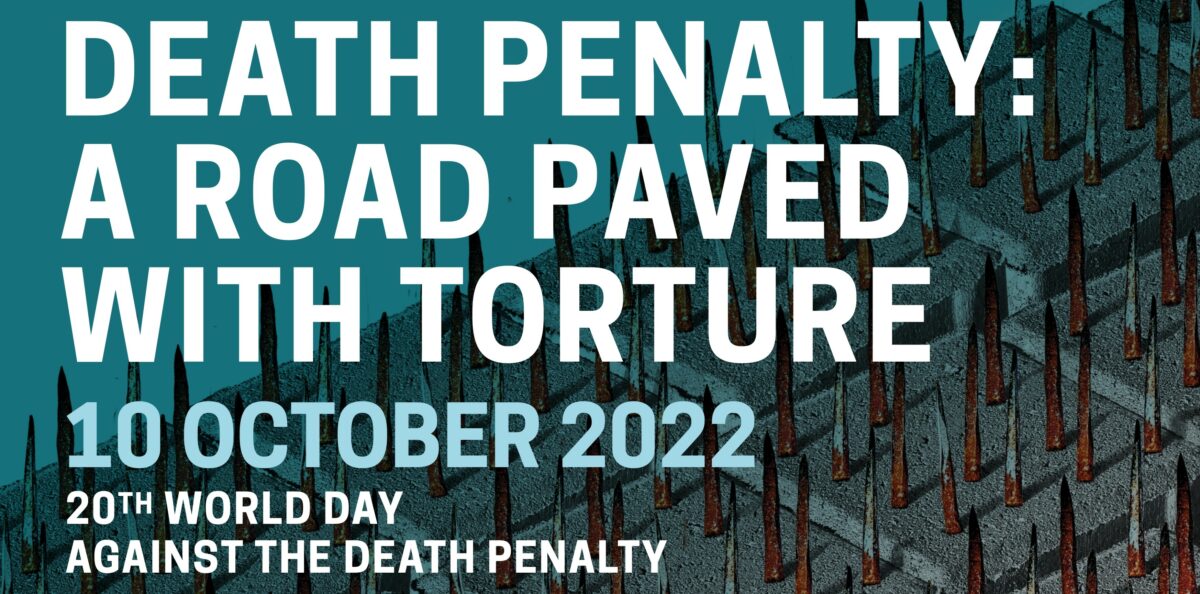 A Look Back at the 20th Anniversary of the World Day Against the Death Penalty
World Day
"Psychologically I am no longer human.". This tweet by the World Organization Against Torture, quoting an interview with Richard Yav, a former security guard who was wrongly sentenced to death for 20 years in Benin, sheds light on the various impacts of torture.
Yav continues "I almost died a year ago. I was in my pastor's waiting room and fell into a coma. At the hospital, they discovered I had a lot of illnesses: a heart problem, diabetes, hypertension, and impaired vision. This is all due to the torture I suffered for 20 years, the stress, the untreated diseases, and the poor hygiene."
10 October 2022 marked the 20th anniversary of the World Day Against the Death Penalty (World Day) in which the topic of torture and its link to the death penalty were investigated under the banner, "The Death Penalty: A Road Paved with Torture". World Day falls under the same day as the Mental Health World Day and particular this year, the themes could not align more. Project 39A (India) tweeted, "[t]he psychological pain and suffering of living with the sentence of death amounts to torture. How can we promise mental health & well-being for all without addressing the torture inflicted on persons on death row?"
This year's focus on the link between torture and the death penalty provided World Coalition members and the abolitionist community worldwide the opportunity to reflect on what torture really means. The German Coalition to Abolish the Death Penalty focused their World Day event on this exact thematic by giving imprisoned people in the USA a voice to express what torture means for them in forms of essays and artwork. Here, the inhumane detention conditions on death row were mostly discussed, such as solitary confinement, the lack of hygienic conditions and medical inefficiency.
During the month of October, other organizations that circled their World Day event around giving a voice to the people most effected are among others Capital Punishment Justice Project (CPJP, Australia), Witness to Innocence (USA) and Justice Project Pakistan (JPP). CPJP invited Kylie Gilbert-Moore for a hybrid discussion about her experience as a former Even prison detainee, a prison located in Iran which is known for housing political prisoners and its human rights violations. Witness to Innocence launched the "Ohio Innocence Tour" in which exonerees toured to five different locations to speak about their experience and subsequently create awareness. JPP created an acclaimed theatre play called "Limbo" in which letters from incarcerated people on death row were presented. Letters from people sentenced to death were also the main focus of the event organized by Lifespark (Switzerland) as they promoted becoming a penpal to people who are incarcerated.
Organizations that concentrated on spreading awareness by education were, among others, Greater Caribbean for Life (GCL, Trinidad and Tobago) and Transformative Justice Collective (TJC, Singapore). GCL created a webinar, stating that "World Day gives [us] an opportunity not only to reflect on progress over the past 20 years, but to renew our resolve to work towards the abolition of the death penalty regionally and globally". The TJC organized four mini lectures which addressed how the death penalty upholds oppression.
There were other events which spanned over several days offering a diverse take on education combined with creativity. The Anti-Death Penalty Asia Network (ADPAN, Malaysia) focused their events mainly on the youth and gave them the chance to express themselves, such as through poetry slams and art competitions. In collaboration with Eleos Justice (Australia), ADPAN also created an art exhibition, titled "Journey to Death Row" with an interactive session. The Taiwan Alliance to End the Death Penalty created a film festival called 'The State vs You and Me' in which international movies regarding the death penalty were shown.
Moreover, some organizations used the World Day to provide training to ensure that certain skills can be acquired for promoting change and doing advocacy. Avocats Sans Frontières (France) focused on training lawyers in Abuja regarding capital punishment. The Advocates for Human Rights (USA) focused on an event that discussed how to use international advocacy to promote legal reforms. Penal Reform International (Uganda) created a moot court competition.
These diverse events around the world illustrate the importance of viewing the process of abolishing the death penalty from different viewpoints, which can subsequently create an intersectional sphere, in which every contribution, be it creative, advocative or educational, counts.
Twitter was an incredibly active platform for activists on 10 October. Pope Francis posted a tweet on World Day condemning the death penalty; 'I call on all people of goodwill to mobilize for the abolition of the death penalty throughout the world. Society can effectively repress crime without definitively depriving the offenders of the possibility of redeeming themselves. #EndDeathPenalty". The tweet gained widespread media coverage. Another person who received widespread media attention is Richard Branson, a British entrepreneur and founder of the Virgin Group, who tweeted criticism towards Singapore's execution policies. He was subsequently invited for a TV debate in Singapore by Singaporean authorities but declined by saying that this opportunity should be given to local activists, pressuring Singapore to listen to their own citizens and experts on the topic.
Other social media events include tweets by the Foundation for Human Rights Initiative who let their followers be part of their in person event in which a meeting between the members of the East African Coalition Against the Death Penalty was held. Statements, such as "It MUST not be available to anybody if we are to achieve the best of this struggle" were posted.
Harm Reduction International (HRI, UK), Iran Human Rights (IHR) and Legal and Human Rights Centre (LHRC, Tanzania) linked World Day particularly to the objective of their organization. Whereas IHR provided information and statistics on the current situation in Iran, HRI spread awareness on the relation between the death penalty and global drug policies which are against international human rights standards. LHRC's Executive Director Anna Henge was quoted saying "The #deathpenalty violates basic human rights & is a morally reprehensible mechanism of punishment for a civilized society to maintain. The death penalty does not deter crime".
Media is important to mobilize and connect the work that has been done against the death penalty worldwide which makes it important that people are openly voicing their stance on platforms, especially on the World Day Against the Death Penalty, 10 October. This year around 1291 events were detected, happening all over the world. 651 events occurred in Europe, 290 in Africa, 179 in Asia, 136 in North America, 19 in Oceania and 2 in South America.