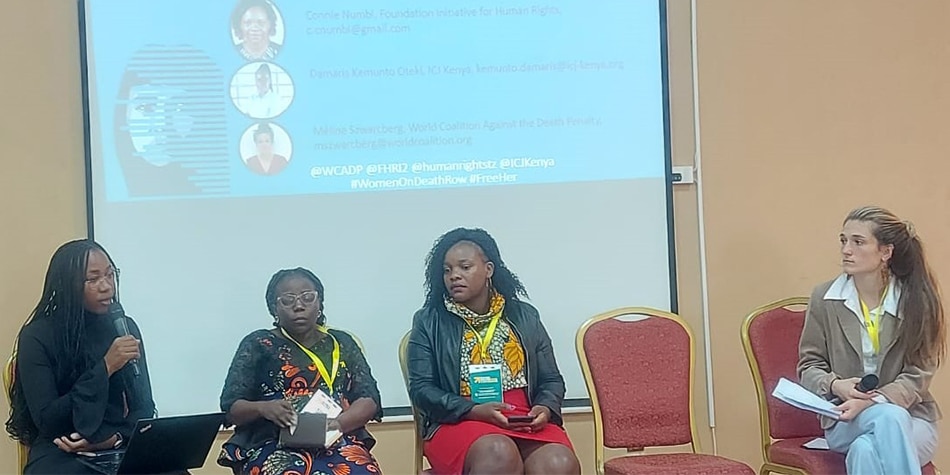 Advocating for the recognition of women sentenced to death in the fight for women's rights
Advocacy
From July 16 to 20, a World Coalition delegation comprising Connie Numbi of Foundation for Human Rights Initiative Uganda, Dr Anna Henga of Legal Human Right Center Tanzania, Damaris Kemunto of the Kenyan Section of the International Commission of Jurists (ICJ Kenya), and Méline Szwarcberg, Women and Gender Project Manager at the World Coalition, attended the Women Deliver women's rights summit in Kigali, Rwanda.
Throughout the summit, they advocated for the recognition of the reality of women on death row in the fight for women's rights. They also organized an unofficial side event on Wednesday, July 19, 2023.
Although women sentenced to death currently represent less than 5% of the world's death row population, analysis of their profiles, backgrounds, and the crimes for which they have been sentenced to death reveals the significant existence of gender bias in capital punishment procedures.
However, the theme of women sentenced to death, and more broadly of women in contact with the law, was once again absent from this international conference on women's rights.
The World Coalition thus joined the call led by Women Beyond Walls, which published an open letter on Monday, July 17, calling on the organizers of Women Deliver to make women's incarceration one of their main topics for discussion.
For Connie Numbi, vice president of the World Coalition, it is imperative to lead the fight for women's rights in a collaborative and inclusive way. She points out that the murders for which so many women are imprisoned and sentenced to death are a direct result of the gender-based and domestic violence they have suffered.
Dr Anna Henga points out that "the rights of women in prison, and particularly of women sentenced to death, are human rights" and should be at the heart of an intersectional struggle for women's rights.
Damaris Kemunto emphasized that the rights of women in contact with the law, specifically women sentenced to death, should be holistically advanced, including in the criminal justice system. While relying on the decision in State Vs Truphena Ndonga Aswani [2021] eKLR, she pointed out the need for courts to consider gender-based violence against women as a mitigating circumstance during sentencing.
Given this urgency, the World Coalition, through its Women and Gender Project, will continue to actively advocate for the recognition of the reality of women facing the death penalty.