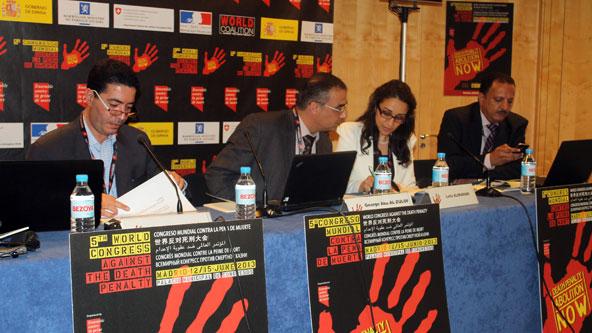 Small progress against the execution of minors
World Congress
There is still, however, a long and arduous way to go before achieving the complete abolition of capital punishment for minors. All the experts who spoke during the 5th World Congress for the abolition of death penalty sing the same song: for every case, they noted that Islamic law had been misinterpreted.
In Yemen, at least two people were executed last year even though their age at the time of the crime had not been properly established and despite the fact that the legislation clearly forbids the death penalty should any doubt remain on that matter.
According to Abdel Debwan Said Sharabi, from the Ministry for Work and Social Affairs in Yemen, the main problem lies with the fact that only 22% of births are recorded, thus explaining how difficult it is to determine the age of the defendant. "Lawyers try to take advantage of legal loopholes for the benefit of minors – we lack transparency regarding the evidence," he said.
Yet, he feels confident about the future and underlines some of the authorites' initiatives such as the implementation of a program aiming at improving birth records and the creation of a commission which will conduct more thorough investigations whenever a doubt concerning the age of person facing the death penalty remains.
Iran's new criminal code
Iran has also made some progress in that area, as timid as they may be. Lawyer Leila Alikarami declared: "The new criminal code contains a few improvements. However, this new legislation still won't be enough regarding several aspects."
It is true for instance about the age of criminal responsibility which, to top it all, is not the same for girls and for boys – under the current legislation girls can be tried as adults from the age of 9 versus 15 for boys.
"In a country where the judicial authorities are not independent and about a hundred children are still on death row, this appears as a very serious issue," the lawyer added.
Leila Alikarami also revealed that minors frequently stay in prison until they are of age so that the execution may be carry out afterwards, apparently in compliance with international standards.
Haitham Shibli, from Penal Reform International, indicated that in Sudan, associations offering legal assistance and acting as mediators to facilitate conciliation between the convicts and the victims' families were created. Still, this expert acknowledged that at least seven child soldiers are currently being held in the country and face the risk of being executed.