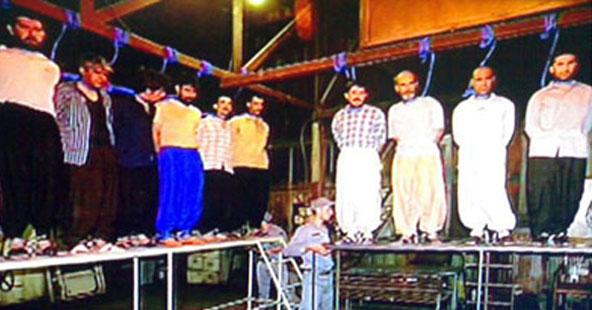 UN: freeze funding of Iran counter-narcotics efforts
MENA
The United Nations agency charged with combating illicit drug trafficking should withdraw its support for counter-narcotics police operations in Iran until the death penalty for drug offenses is abolished, six rights groups said in a letter published today. The groups made the plea after Iran's judiciary hanged 18 alleged drug traffickers within 24 hours on December 3, 2014, bringing the number of drug offenders executed in the country during 2014 to at least 318.
Reprieve, Human Rights Watch, Iran Human Rights, the World Coalition Against the Death Penalty, Harm Reduction International and the Abdorrahman Boroumand Foundation said the United Nations Office on Drugs and Crime (UNODC) should follow its own human rights guidance and impose "a temporary freeze or withdrawal of support" if "following requests for guarantees and high-level political intervention, executions for drug related offenses continue." The six organizations warned the UNODC of "the widening gulf between Iran's rhetoric and the realities of its justice system," and described the agency's decision to continue funding supply-side counter-narcotics efforts in the country as "ineffective if not counterproductive."
"As Iran executes alleged drug offenders in ever-greater numbers, it beggars belief that the UN sees fit to continue funding Iranian anti-drug operations," said Reprieve director Maya Foa. "How many more hangings will it take for the UN to open its eyes to the lethal consequences of its current approach, and make its counter-narcotics support conditional on an end to the death penalty for drug offenses?"
The UN agency's records show it has given more than $15 million to "supply control" operations by Iran's Anti-Narcotics Police, funding specialist training, intelligence, trucks, body scanners, night vision goggles, drug detection dogs, bases, and border patrol offices, the groups said. UNODC projects in Iran have come with performance indicators including "an increase in drug seizures and an improved capability of intercepting smugglers," and an "increase of drug-related sentences."
The United Kingdom, Ireland and Denmark have all chosen to withdraw their support from Iranian counter-narcotics operations administered by the UNODC because of concerns that this funding was enabling the execution of alleged drug traffickers. When announcing its decision to do so, Denmark publically acknowledged that the donations are leading to executions.
The groups had previously written a letter to UN Secretary General Ban Ki-Moon in May 2014 on the issue of UNODC counter-narcotics funding in Iran and Vietnam. In their letter, the groups expressed concern that UNODC continuing support of Iran's counter-narcotics operations was "lending legitimacy" to executions of drug offenders. In an August 2014 response, UNODC Executive Director Yury Fedotov responded that his agency sought progress through "engagement and dialogue," and that he was "gratified" by "potentially favourable developments regarding the application of the death penalty in relation to drug offenders in Iran."
Iran's anti-narcotics law imposes a mandatory death sentence for manufacturing, trafficking, possession, or trade of five or more kilograms of opium and other specified drugs, and 30 or more grams of heroin, morphine, or specified synthetic and non-medical psychotropic drugs, such as methamphetamines. International law requires countries like Iran that retain the death penalty to impose it for only the "most serious crimes," which does not include drug crimes.
Although international law says that all death sentences should be subject to appeal, Iran has apparently limited appeals in drug-related cases. Figures suggest Iran is executing those charged with drug offenses in increasing numbers, despite recent calls for reform by the chair of the country's Human Rights Council, Mohammad Javad Larijani, who said there were legislative efforts under way to end the death penalty for drug-related offenses.
The rights groups are not aware of any pending legislation in parliament that would end, or even reduce, the number of executions related to drug offenses. On December 16, the Iranian Students' News Agency reported that a high ranking official with the country's counter-narcotics agency opposed the elimination of the death penalty for drug traffickers, noting that any changes in the law would have to be made by the Expediency Council, an advisory body to the Supreme Leader, and not Iran's parliament.
Harm Reduction International and Human Rights Watch previously urged UNODC to freeze funding of drug enforcement programs to Iran, and said Iranian authorities should move quickly to end the death penalty for drug-related offenses. The two groups first met UNODC officials in Vienna in 2007 to discuss concerns regarding the execution of drug offenders in Iran.
For more information, please contact:
– For Human Rights Watch, in New York, Faraz Sanei (English, Persian): +1-310-428-0153 (mobile); or +1-212-216-1290; or saneif@hrw.org. Follow on Twitter @farazsanei; Sarah Leah Whitson (English): +1-718-362-0172 (mobile); or whitsos@hrw.org. Follow on Twitter @sarahleah1
– For Reprieve, in London, Maya Foa (English): +44(0)7967582810 (mobile); or maya.foa@reprieve.org.uk; Dan Dolan (English): +44(0)7771374925 (mobile); or at dan.dolan@reprieve.org.uk.
– For Iran Human Rights, in Oslo, Mahmood Amiry-Moghaddam (Persian, Norwegian, English): +4791742177; or mail@iranhr.net.
– For Harm Reduction International, in London, Rick Lines (English): +44(0)7872600907 (mobile); or Rick.Lines@ihra.net.
– For Abdorrahman Boroumand Foundation, in Washington DC, Roya Boroumand (Persian, English): +1-202-253-4529 (mobile); or roya@boroumandfoundation.org.
– For World Coalition Against the Death Penalty, in Paris, Maria Donatelli (English): +33180894506; mdonatelli@worldcoalition.org.