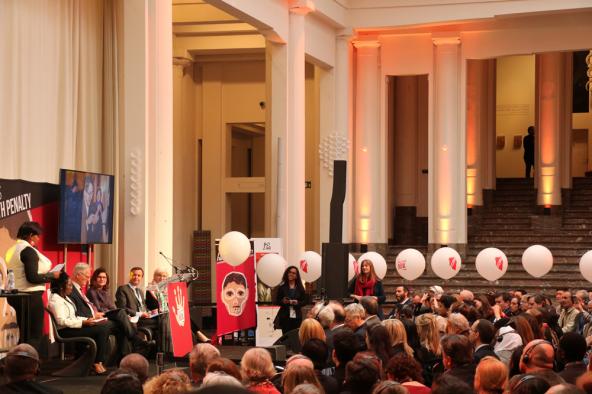 7th World Congress – Closing ceremony
World Congress
Last morning of exchanges
Round tables, workshops and training sessions were held throughout the morning at the Egmont Palace, covering a wide range of topics, like the issue of the discriminatory application of the death penalty to women, how to advocate with religious leaders, or the use of new technologies and new strategies to be implemented.
A studious morning, but which allowed everyone to participate, to exchange ideas and to propose new initiatives. Journalists, members of organizations, lawyers, or activists were able to work together in a tremendous spirit of collaboration, mutual support and energy.
The closing ceremony
The Closing Ceremony, moderated by Susan Kigula, a former death row inmate in Uganda, and Alexandria Marzano-Lesnevich, an American author, provided an opportunity to reiterate everyone's commitment to the abolitionist cause and to review the many initiatives developed during the four days of Congress.
While many speeches in support of the abolitionist cause have taken place, particularly from Benin and Monaco, but also from parliamentarians, lawyer bar associations, national human rights institutions, the red hands of abolitionist activists have risen to say no to the death penalty.
The closing ceremony was also an opportunity for the World Coalition to read the final declaration of the Congress.
Finally, to conclude this very beautiful moment of activism, all the participants gathered for the World March for Abolition. A peaceful, luminous and fraternal moment through Brussels that emotionally sealed this 7th World Congress.
The 7th Congress is now over, but the fight continues!