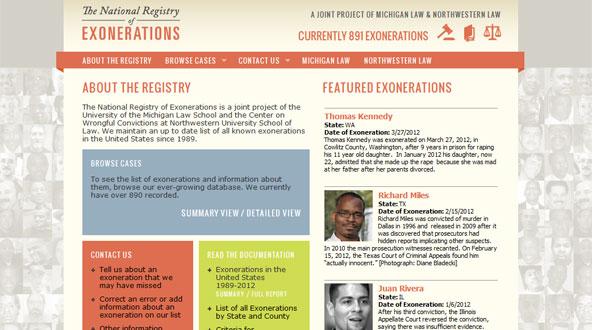 One in nine exonerations in new database is a capital case
Statistics
The National Registry of Exonerations, an academic website launched on May 21, documents 891 individual cases in which people were found guilty of serious crimes, only to be cleared of their convictions by the authorities later on.
More than 100 of those wrongful convictions led to death sentences.
In addition to individual cases, a report on the website contains information on more than 1,000 additional cases of "group exonerations" that occurred in response to 13 separate police corruption scandals.
The National Registry of Exonerations defines an exoneree as "a person who was convicted of a crime and later officially declared innocent of that crime, or relieved of all legal consequences of the conviction because evidence of innocence that was not presented at trial required reconsideration of the case".
The Registry is a joint project of the University of the Michigan Law School and the Center on Wrongful Convictions at Northwestern University School of Law. It aims to maintain an up to date list of all known exonerations in the United States since 1989.
"It's clear that the exonerations we found are the tip of an iceberg," said Michigan Law professor Samuel Gross. "Most people who are falsely convicted are not exonerated; they serve their time or die in prison. And when they are exonerated, a lot of times it happens quietly, out of public view."
Alongside recent campaigns denouncing the likely execution of innocents in cases such as those of Carlos De Luna, Cameron Todd Willingham and Troy Davis, the high number of capital cases on the Registry of Exoneration once again highlights the high risk of executing innocents inherent to the death penalty.