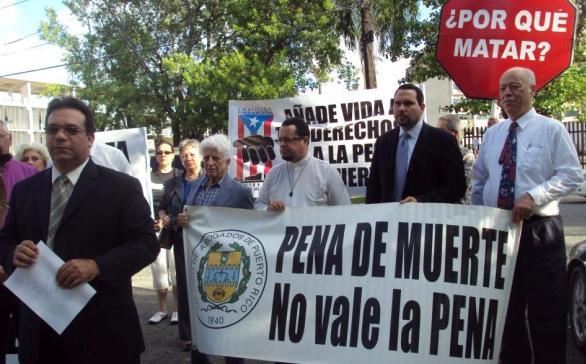 Jury Rejects Federal Death Penalty in Puerto Rico
The Puerto Rico Constitution specifically prohibits the death penalty. Notwithstanding, the US federal authorities in what has been called "the oldest colony of the World" consistently tries to impose such punishment through the US District Court in San Juan.
18 capital punishment trials are still pending in Puerto Rico and 2 of them are scheduled to begin in January, 2013. So this last victory over the death penalty is of great importance.
It is also really encouraging that this recent death penalty case was widely discussed in the local press, radio, television and social media, and the abolitionist movement militancy drove political leaders from all ideologies to express their opposition to capital punishment. Many of those leaders were present in several of the daily vigils, held in front of the Federal District Court (photo).
Crime rate up
Puerto Rico has seen crime rates go up in recent years.
Early in 2010, the local government signed a memorandum of understanding with the US federal justice department to cede jurisdiction over some violent crimes. One of the side effects of that agreement has been a significant amount of death penalty cases certified or awaiting be certified by the United States Department of Justice.
That 2010 agreement has failed to halt the growing violent crime rate in the Caribbean archipelago of Puerto Rico; neither did the Federal Death Penalty Act of 1994. The possibility of capital punishment has not proved to have a dissuasive effect and is undeniably against our principles as a People.
Solidarity
The abolitionist movement in Puerto Rico has expressed the solidarity to both the victim's and the defendant's families.
While the US Government keeps trying to siege a life using the federal court in San Juan, we will not cease to claim respect for life as a human right in our homeland.