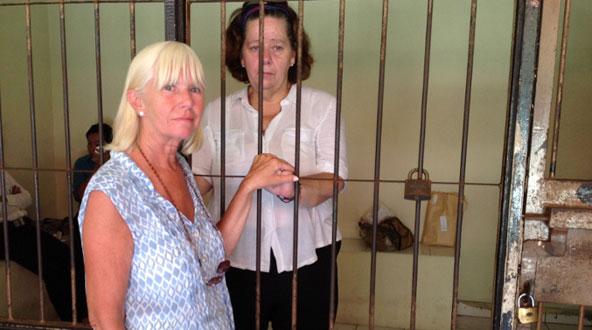 Briton's death sentence puts Indonesians at risk
Asia
This is an excerpt from the original article.
This week we learned that Lindsay Sandiford, a British citizen, was sentenced to death for drug trafficking charges by a Bali court. The prosecution asked for a 15-year sentence. But the judges decided instead to give her the maximum penalty: death.
Just last month, the Attorney General's Office stated that it intended to follow through with the executions of 10 prisoners in 2013.
The Commission for the Disappeared and Victims of Violence (Kontras) is deeply troubled by this turn of events because it is inconsistent with the current government policy aimed at protecting Indonesian citizens abroad.
In recent years, Indonesia has shifted away from the death penalty, in line with the global trend toward abolition. No one has been executed here since 2008, and the number of new death sentences appear to be decreasing annually.

Move away from capital punishment
President Susilo Bambang Yudhoyono has commuted a total of 19 death sentences out of 126 pleas for clemency during his 2 terms, including 3 new commutations in 2012. Foreign Minister Marty Natalegawa has said that the granting of clemency was part of a broader move away from capital punishment.
This shift was apparent in foreign affairs, as well. Last year, Indonesia changed its vote on the UN Moratorium on the Use of the Death Penalty from opposition to abstention. Indonesia's delegate stated that public debate on capital punishment in Indonesia was "ongoing, including concerning a possible moratorium."
Yudhoyono's strategic shift reflects the demands of an increasingly globalized society. Some 6.5 million Indonesian citizens are employed abroad as domestic workers and laborers. More than 200 of them are currently facing the death penalty overseas, much to the dismay of their fellow citizens back home.
Indonesians abroad facing execution
In response, the Ministry of Foreign Affairs and the newly formed Task Force on Migrant Worker Protection (Satgas TKI) have negotiated clemency on behalf of 110 Indonesian citizens in 2012, according to a statement by the ministry last year. Satgas TKI stated that it was instrumental in the commutation of death sentences for 37 workers in Saudi Arabia, 14 in Malaysia, 11 in China and one in Iran.
The Bali court's action this week stands in stark contrast to Indonesia's stated and demonstrated death penalty policy. It diminishes the recent successes of the Satgas TKI and puts millions of Indonesians who work and travel abroad at risk of execution. Sandiford's case has received international publicity, with potentially negative consequences for Indonesia's global image.
More than two thirds of the countries in the world have abolished capital punishment. The time has come for Indonesia to lead the way for emerging global powers by abolishing the death penalty once and for all.

Another World Coalition member organization, Reprieve, has more details on Lindsay Sandiford's case.
Photo: Lindsay Sandiford (right) with her sister
(www.lindsaysandifordbalideathappeal.com)