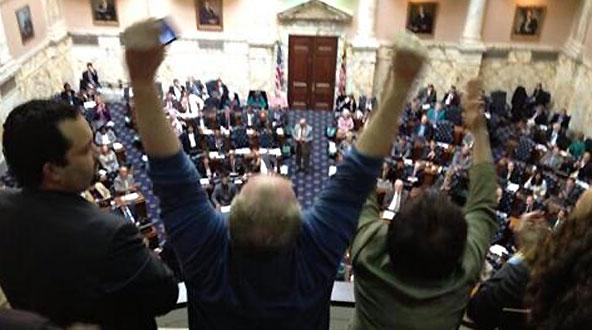 World Coalition members hail abolition in Maryland
Good news
Abolitionists worldwide celebrated on 15 March when Maryland delegates took a final vote to make their state the 18th to abolish the death penalty in the US.
The abolition bill is now transferred to governor Martin O'Malley, who sponsored it and has pledged to sign it into law.
World Coalition members in the US had been watching the vote closely and the news spread immediately.
IT'S OFFICIAL! 82 votes to 56 votes, #MDRepeal passes!

— DPFocus (@DPFocus) March 15, 2013
Witness to Innocence, an organisation that successfully supported the Maryland repeal campaign by raising the profile of death row inmates who had a narrow escape when their conviction was overturned before their execution, commented on Facebook: "It is a truly historic day. The death penalty in Maryland has been eliminated as it should be."
The National Coalition to Abolish the Death Penalty, too, issued an upbeat statement: "Maryland is the bellwether for the country on the death penalty. (…) Like other states that have taken a close look at the practice, lawmakers and citizens in the state have come to the conclusion that the death penalty system is simply unworkable."
Across the Atlantic Ocean, the Italian-based Community of Sant'Egidio extended a warm "thank you Maryland!" on its website, adding that the state had "entered history".
The success of the Maryland campaign raises hope for Delaware, a neighbouring US state where a death penalty repeal bill will be discussed later this month.
While welcoming the "growing momentum against capital punishment in the United States", Human Rights Watch also noted: "However, the bill does not directly affect the five inmates awaiting execution in Maryland, leaving it up to O'Malley to determine whether to commute their sentences."
In a stark remainder of the work remaining to be done, celebratory comments from World Coalition members on abolition in Maryland alternated with shock at the first execution in four years in Indonesia on the same day.
Photo: Witness to Innocence advocacy director Kirk Bloodsworth, who spent years on Maryland death row, reacts after House votes 82-56 for repeal (WTI/Facebook)