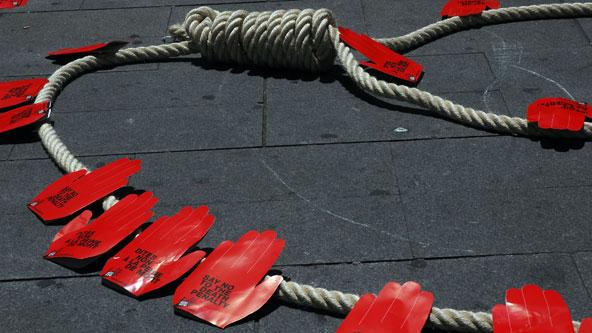 After abolition: what alternative to the death penalty?
World Congress
By replacing the death penalty by life in prison without the possibility of parole, countries that abolish capital punishment risk perpetuating inhumane punishment, experts said at the 5th World Congress Against the Death Penalty.
Yet they acknowledged that abolitionists must also take into account the concerns of those who fear that abolishing the death penalty may lead to impunity.
"With an irreducible life sentence, just like the death penalty, you will die in prison," said Dirk Van Zyl Smit, professor at Nottingham University and member of the International Academic Network for the Abolition of Capital Punishment (REPECAP).
"Irreducible life sentences reduce the humanity of those punished in such a way," he added, citing inconclusive rulings by European human rights bodies on this issue. While international case law has not forbidden life without the possibility of parole, the European Court of Human rights has found that the loss of hope to be ever released was illegal.
Moroccan law professor Mohammed Bouflaza remarked that a variety of alternatives exist in various countries, from those that limit the number of years an individual can spend in prison to those that impose multiple successive life sentences.
Constance de la Vega, a law professor from San Francisco and member of the Human Rights Advocates, argued in favour of offering a parole process to prisoners who received life sentences.
"Going through the parole process makes people show that they are now going to be a productive member of society," she said. She added that paroled prisoners were found to be less likely to re-offend than those who were released after a fixed prison term.
"Public opinion believes abolition means impunity"
However, the dean of Kinshasa University Law School in DR Congo, Raphaël Nyabirungu, warned that "public opinion believes the abolition of the death penalty means impunity – with reason, considering the state of our prison administration".
He said that in a country lacking basic prison facilities, the public did not expect jail terms to be effectively served.
"We should not only push for abolition, but also for prisons to be built and detention conditions to become decent," he said.
A vivid confirmation of how tricky the issue of alternative sanctions can be came from the audience when the victim of a terrorist attack in Morocco said: "I oppose the death penalty, but I'm in favour of life prison terms."
Mohammed Bouzlafa replied that in a North African context, those issues should be addressed step by step. "Abolition is a goal in itself and the alternative is live in prison without parole. If we achieve this in Morocco, we will need to have a second debate on penalties." He argued that at that stage, the best option would be to increase the roles of judges specialising in enforcing sentences. "They should take a variety of criteria into account including age, gender and health," he said.
Andrea Huber of World Coalition member Penal Reform International concluded the debate by insisting: "In communication with the public, it is crucial not to say that this person will be released, but that there will be a possibility of release."