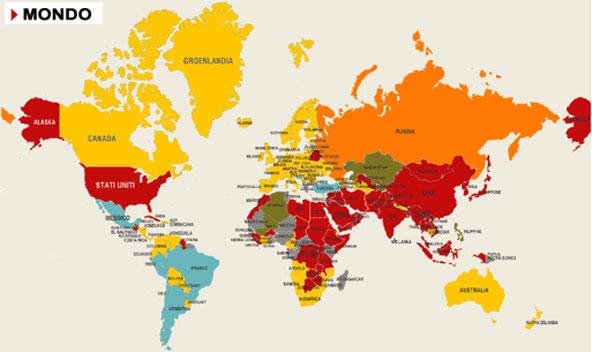 Hands Off Cain: number of executions and retentionist countries down in past year
Statistics
The worldwide trend towards abolition, underway for more than 15 years, was again confirmed in 2012 and the first six months of 2013.
According to HOC's count, there are currently 158 countries and territories that, to different extents, have decided to renounce the death penalty. Of these:
•    100 are totally abolitionist;
•    seven are abolitionist for ordinary crimes;
•    five have a moratorium on executions in place;
•    46 are de facto abolitionist (i.e. countries that have not carried out any executions for at least 10 years or countries which have binding obligations not to use the death penalty).
Countries retaining the death penalty worldwide declined to 40 (as of 30 June 2013), compared to 43 in 2011.
In 2012, there were at least 3,967 executions, compared to at least 5,004 in 2011. The decline in executions compared to previous years is justified by the significant drop in executions in China, estimated to be down from about 4,000 in 2011 to about 3,000 in 2012.
Hands Off Cain has more details on its website as well as an online database presenting country-by-country information from the report.