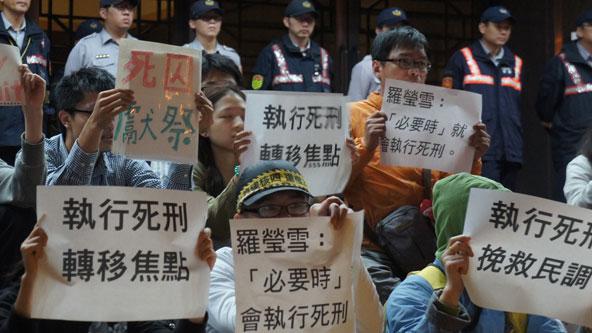 More surprise executions in Taiwan
Asia
TAEDP has published a scathing press release that points the figure square at the government of President Ma Ying-jeou for the five executions that took place on 29 April. It claims political motivations are at the heart of the state sponsored killings.
"By using the death penalty as a desperate means to salvage public approval, this government has shown to the world once and for all its savage and callous nature," it states.
The press release highlights the Ma government's propensity to use executions as tool to divert attention away from its political shortcomings.
"Since Ma Ying-jeou decided to resume capital punishment in 2010, each time the death penalty was carried out happened to coincide with political crises in which the Ma administration's approval ratings plummeted," it notes.
Large-scale street protests over a controversial trade deal with China have rocked the political establishment in Taiwan in recent weeks.
Executions reminiscent of 2013
The most recent mass executions are reminiscent of the six executions that took place in April 2013 after the World Coalition held its Steering Committee meeting in Taiwan.
As reported by the World Coalition at the time, the executions took place despite assurances from President Ma that the State would aim to "reduce the number of executions".
In response to the 2013 executions the World Coalition returned watches given as presents to its representatives by President Ma, accompanied by a letter urging him to "practice what [he] preach[es]".
As the US dealt with the aftermath of its latest death penalty scandal – the botched execution of Clayton Lockett in Oklahoma – American abolitionists were among many World Coalition members shocked by the news from Taiwan.
"The execution of five people in Taiwan in one day is a step backwards from the growing global consensus against the death penalty," said Matt Cherry, executive director of Death Penalty Focus. "There's a long and dishonourable history of regimes using executions to divert attention from their political problems. Taiwan can escape this shameful legacy by joining the majority of the world's governments in ending the cruel and irreversible practice of state killing."
The latest executions came just days after TAEDP had conducted a series of workshops across the country to help defence lawyers defend clients facing the death penalty, including in cases of politically motivated expediency such as those of 29 April.
The training sessions were conducted by Taiwanese and international lawyers using the publication Representing Individuals Facing the Death Penalty: A Best Practices Manual, published with assistance from the World Coalition and recently translated into traditional Chinese by TAEDP.
Attached documents