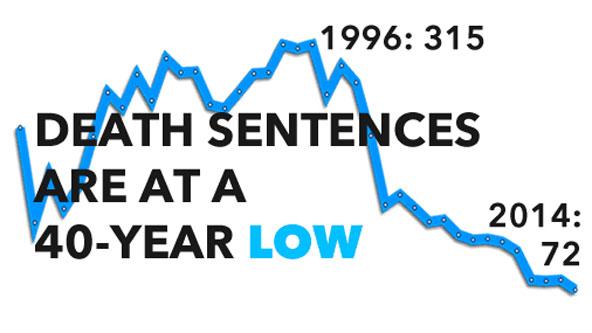 Fewest death sentences in 40 years in the US
Good news
With 35 executions this year, 2014 marks the fewest people put to death since 1994, according to a report released today by the Death Penalty Information Center (DPIC).
The 72 new death sentences in 2014 is the lowest number in the modern era of the death penalty, dating back to 1974. Executions and sentences have steadily decreased, as Americans have grown more skeptical of capital punishment. The states' problems with lethal injections also contributed to the drop in executions this year.
Executions decreased 10% compared to 2013 – from 39 to 35 – continuing an overall decline since 1999, when there were 98 executions. The number of states carrying out executions – seven – was the lowest in 25 years.
80% of executions in three states
Just three states – Texas, Missouri, and Florida – accounted for 80% of the executions. For the first time in 17 years, Texas did not lead the country in executions, being tied with Missouri at 10.
Death sentences — a more current barometer than executions — have declined by 77% since 1996, when there were 315. There were 79 death sentences last year. This is the fourth year in a row that there have been fewer than 100 death sentences.
"The relevancy of the death penalty in our criminal justice system is seriously in question when 43 out of our 50 states do not apply the ultimate sanction," said Richard Dieter, DPIC's Executive Director and the author of the report. "The U.S. will likely continue with some executions in the years ahead, but the rationale for such sporadic use is far from clear."
Death row prisoners exonerated three decades later
Seven people who had been on death row were exonerated in 2014, the most since 2009. Three men in Ohio were cleared of all charges 39 years after their convictions, the longest time of any death row exonerees. Two others in North Carolina were freed after 30 years in confinement. Since 1973, 150 people have been exonerated and freed from death row.
Individual state developments illustrate the growing isolation of death penalty use:
· the number of executions has declined in 11 of the past 15 years. In 1999, 20 states carried out executions; in 2014, only 7 states did so;
· for the seventh year in a row, Texas had fewer than a dozen death sentences, a sharp decline from 1999, when it had 48;
· California (14) and Florida (11) provided 35% of the death sentences in the country;
· Washington Governor Jay Inslee announced that no executions would take place while he is governor, joining the governors of Oregon and Colorado in halting executions;
· in California, a federal judge declared the state's death penalty unconstitutional.
Mental health an emerging issue
Mental disabilities loomed as an emerging issue in 2014. The Supreme Court struck down Florida's restrictive standards for determining intellectual disability in capital cases.
The pending execution of a paranoid schizophrenic inmate in Texas (Scott Panetti) drew opposition from evangelical leaders, mental health professionals, and many others. A federal court stayed the execution with just hours to spare.