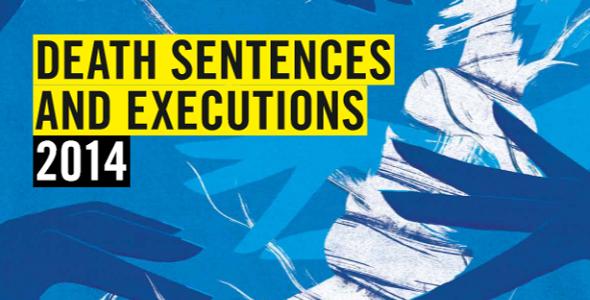 Death sentences and executions 2014
Statistics
Amnesty International recorded executions in 22 countries in 2014, the same number as in 2013.1 At least 607 executions were carried out worldwide, a decrease of almost 22% compared with 2013. As in previous years, this figure does not include the number of people executed in China, where data on the death penalty is treated as a state secret. At least 2,466 people are known to have been sentenced to death in 2014, an increase of 28% compared with 2013. This increase was largely due to sharp spikes in death sentences in Egypt and Nigeria, where courts imposed mass sentences against scores of people in some cases.
An alarming number of countries that used the death penalty in 2014 did so in response to real or perceived threats to state security and public safety posed by terrorism, crime or internal instability. For example, Pakistan lifted a six-year-long moratorium on the execution of civilians in the wake of the horrific Peshawar school attack. The government also pledged to execute hundreds of people on death row who had been convicted on terrorism-related charges. China made use of the death penalty as a tool in the "Strike Hard" campaign, which the authorities characterized as a response to terrorism and violent crime in the Xinjiang Uighur Autonomous Region.
Violations of international law
There is no evidence that the death penalty has a greater deterrent effect on crime than terms of imprisonment. Where governments present the death penalty as a solution to crime or insecurity they are not only misleading the public but – in many cases – failing to take steps to realize the goal of abolition recognized in international law.
Many of those states that retain the death penalty continued to use it in contravention of international law and standards. Unfair trials, "confessions" extracted through torture or other ill-treatment, the use of the death penalty against juveniles and people with mental or intellectual disabilities, and for crimes other than "intentional killing" continued to be concerning features of the use of the death penalty in 2014.
Despite these concerns, the world continues to make progress towards abolition.