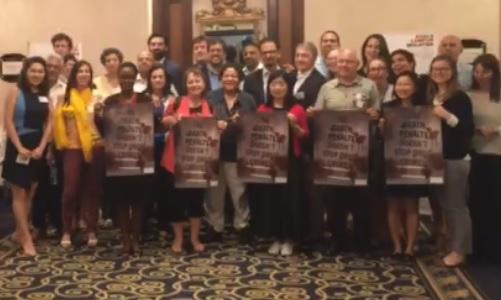 World Coalition elects new decision-making bodies
During its General Assembly held after the Asian Regional Congress, the World Coalition elected 20 member organizations to its Steering Committee and 5 Executive Board members.
> Check the list of Steering Committee members
The statutory meeting also saw the adoption of the 2014 accounts and balance sheet, the 2014 activity report, the provisional budget and orientation report for 2015 as well as a modification of the By-Laws concerning the frequency of the General Assembly.
The new Steering Committee met just after the General Assembly and elected from among its members an Executive Board made of five people: Raphaël Chenuil-Hazan (Ensemble contre la peine de mort – ECPM), Guillaume Colin (International Federation of ACATs – FIACAT), Kevin Rivera Medina (Puerto Rico Bar Association), Elizabeth Zitrin (Murder Victims' Families for Human Rights – MVFHR), Mostafa Znaidi (Organisation marocaine des droits humains – OMDH).
In accordance with the by-laws, Guillaume Colin will serve as Treasurer, Elizabeth Zitrin as President, Raphaël Chenuil-Hazan, Kevin Rivera Medina and Mostafa Znaidi will serve as Vice Presidents for two years.
The Executive Board, under the delegation of the Steering Committee, has the responsibility for the general control, management, governance and legal issues concerning the non-profit association.