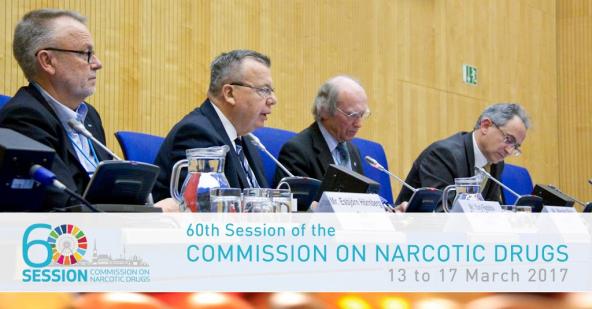 Death penalty and the "war on drugs" discussed during the 60th U.N. Commission on Narcotic Drugs annual meeting.
From March 13th to 17th 2017, the 60th Commission on Narcotic Drugs annual meeting in Vienna took place. State representatives, international and civil organizations addressed the issue of anti-drugs policies. During this meeting, governments have been encouraged to "promote proportionate national sentencing policies for drug-related offences and consider, where appropriate and applicable, in accordance with national legal systems, alternatives to conviction or punishment, such as measures for treatment, education, aftercare, rehabilitation and social reintegration". *
The death penalty was addressed during several side events. The International Drug Policy Consortium raised this issue in a side event organized in partnership with Nobox Transitions Foundation a Philippine's NGO, SCDI Vietnam and Rumah Cemara Indonesia, on the South-East Asia situation. Ann Fordham, representative of the IDPC expressed her concern regarding the reintroduction of the death penalty in Philippines.
On that subject, Leni Robredo, Vice-president of the Philippines gave her opinion in the opening video of the DRCNet Foundation's event. In this video, Robredo condemns the repressive "war against drugs" led by Duterte and denounces human rights violations in the Philippines.
Vice-president Robredo also took this opportunity to reveal the "palit-ulo" scheme following which "relatives of a person in a drug list will be taken if the person himself could not be found". Following this she urged the Duterte administration to focus on a more rehabilitative drug policy instead of using the death penalty.
Finally, in another one of the numerous side events of this annual meeting, the "Global Commission on Drug Policy" presented to the CND community their most recent report called 'Advancing Drug Policy Reform: a new approach to decriminalization'. This report focuses on drug policy reform and provides recommendations to countries in areas such as decriminalization, alternatives to incarceration or to the death penalty for low-level people involved in the production, transport or selling of drugs. After a precise analysis of the human rights abuses committed under drug control regimes, the GCDP urges States to abolish the death penalty for all drug-related offenses.

*Recommendations of the subsidiary bodies of the Commission