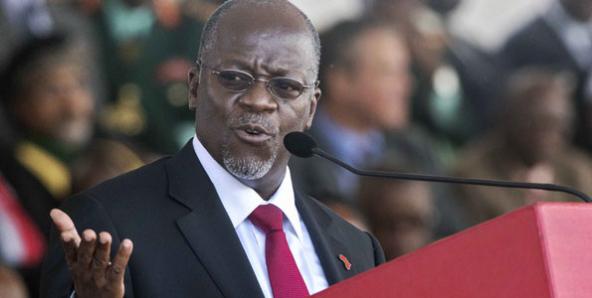 Tanzania: President Magufuli declares his position against the death penalty.
Good news
During the investiture of his new Chief Justice, President Magufuli made an unexpected statement regarding his view on the death penalty. While mentioning the fate of the 491 death row prisoners, the President declared: "I am aware of the difficulties in implementing such sentences, so I am telling the courts not to submit to me the list of names of the prisoners who are in line to be hanged to death […] I am told there are many people waiting to be executed, but please don't bring the list of those people to me. As politicians, we are not happy about carrying out such death sentences."
For Fulgence TM, head of the Legal Aid Clinic of the Legal and Human Rights Center (LHRC), this statement gives an opportunity to discuss further. Since the presidential announcement, members of the political opposition and the civil society have debated over the fate of the death penalty in the country. "It seems that the presidential statement has emboldened those who did not dare to speak out," said Fulgence TM. On local television, not a single comment was made in favor of the death penalty. "People consider the death penalty as a colonial inheritance. No one is in favor of it. I think it is the right time to challenge it" declared Fulgence TM.
Even though the last execution took place in 1994, the statement made by President Magufuli could potentially impact the 491 inmates sentenced to death. According to the Legal Aid Clinic of LHRC, the presidential support will enable lawyers to challenge the mandatory death penalty before the High Court. Even though it is impossible to know with certainty how judges will react to the President' statement, the judiciary will probably concur with the executive branch according to local observers. Indeed, because judges are appointed by the President, a strong dissent from the judiciary seems unlikely. "Now is the right time to engage with the Attorney General and to advocate for mass commutation. The signature of the United Nations Moratorium on the Death Penalty would be a first step" said Fulgence TM.
For the abolitionists, however, the long-term plan remains a complete abolition of the death penalty in Tanzania. Although this public statement constitutes a first step, President Magufuli's actions should go beyond mere words. "The Head of State should influence changes to relieve judges and magistrates with difficulties they at the time of making rulings," declared Dr Hellen Kijo-Bisimba, LHRC Executive Director. Tanzanian abolitionists remain focus on their target. From the 1st of October to the World Day Against the Death Penalty on October 10, Children Education Society (CHESO) will organize several events to advocate for a complete abolition. Thus, the 15th World Day Against the Death Penalty will offer another opportunity to put the death penalty at the center of the Tanzanian political agenda.