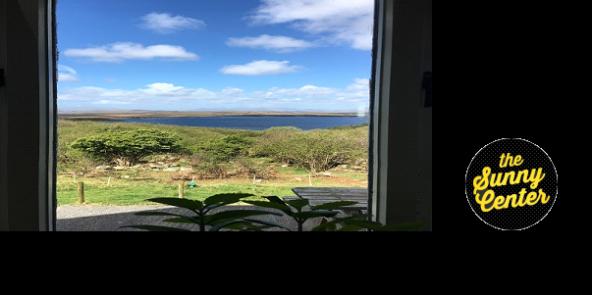 The Sunny Center
Sunny and Peter were both wrongly convicted. Sunny was sentenced to death in Florida along with her partner at the time in 1976 and spent 17 years in prison. Peter was sentenced to death in Ireland in 1980 and spent 15 years in prison. Both convictions were overturned, and they were released. They met at an antideath penalty conference in Ireland late 1990's, fell in love and got married.
That is why they do the work they do with the exonerees: they are happy together and were able to rebuild a life. Not everyone does.
"We want these people to know that they are something else than what happened to them"
They both know what it is like to spend 15, 20 years in prison and to leave that prison totally devoid of everything in the social, economic and even emotional level. Without family and friends, it is very difficult to find support and therefore to get by. And to this is added the feeling of betrayal and bitterness to have had so many years of their lives stolen from them.
The Sunny Center is, as the founders call it " a sanctuary, providing exonerees with immediate, spiritual, emotional and physical support, with the goal of assisting them with overcoming the trauma, isolation, and disconnection resulting from wrongful incarceration." A place where the exonerees can heal from their wounds.
The work that Sunny and Peter do is extraordinary. It is unique.
A normal day at the Sunny Center
I had the pleasure to stay with Sunny and Peter in the spring and to experience what any other visitor experiences while staying with them. That is, Sunny and Peter's daily life, which makes you feel as part of the family right away.
Peter gets up at around 8 am, Sunny a bit later. Then they go to the goats' shed to feed, let them out and milk them if necessary. They will milk the goat just enough to bring her relief. Then, the hens are fed.
They come back to the house and Peter will rest while Sunny makes the fresh goat cheese. This takes about an hour, as everything must be rinsed and sterilized. After the cheese is done, it's meditation time.
Before noon they will have a very nutritious breakfast. And, as Sunny says, "after that, half of the daily work is already done".
After lunch they're both busy with their activities: Peter will be doing some ground work or house work while Sunny works at her desk. She replies to emails, makes phone calls and reads about all the things she's interested in on the Internet. " She's and endless source of knowledge" as Peter will say.
During this time, the visitors can take the dogs for a walk or spend some time by themselves or with a friend from the region that Sunny and Peter have introduced them to.
Then we have lunch. After lunch, Sunny goes to the green house, cleans it up a bit and grabs the vegetables for diner. Peter will continue his work until it is time to cook and have diner. After diner, Peter goes outside and puts the animals to bed.
Finally, it is time for Peter to " prepare the berries". In the evening we sat in their living room, eat the berries and talk until it's time for them to go to bed.
Feeling as a part of the family, being part of the routine of the Sunny Center, meditating with them, doing yoga and, most of all, spending time with Sunny and Peter will help the exoneree "take out all the bitterness" which is a first step towards a new beginning.
The future of the Sunny Center
As a small organization which did not start as one, Peter and Sunny are constantly learning and evolving. But what The Sunny Center struggles the most with is finding the funds to grow as its founders would like to: "in an ideal situation, we would have a lot more space, two separate buildings, an art workshop, so that those who come can explore their creativity".
The Sunny Centre works thanks to the donations of many people who support their cause, although the largest donation they have ever had does not exceed $5,000. Sunny and Peter would like to find a philanthropist who is willing to support their project over the long term. "we would like to expand, but not for ourselves, but to expand the work we do… if we have the funding, we can do the rest. But we don't have the funds".
Sunny thinks another priority is establishing solidarity networks for when the exonerees go back home. Many of them have to live in shelters for the homeless or halfway houses when they go out of prisons. They are constantly dealing with how to survive the next day. For this purpose, they have initiated the first exonerees community in the USA.

To perpetuate the Sunny Center, Sunny and Peter would like to teach other exonerees how to do the work that they do. Their work is expanding to the rest of the World, but they need your help!
There are many ways in which you can help the Sunny Center: volunteer, make a donation or even pledge air miles. You can find more information here: http://www.thesunnycenter.com/help-us.html
If you want more information about the Sunny Center, please visit their website: http://www.thesunnycenter.com/
You can also watch this short video: https://youtu.be/uCPb7qoZzdg