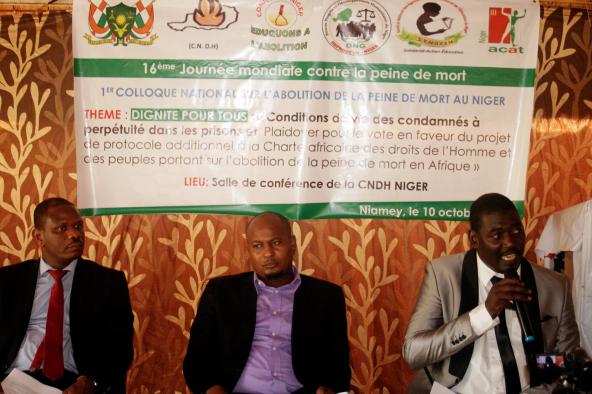 First symposium on the abolition of the death penalty in Niger
Africa
The symposium was preceded by a press conference on October 8 2018 in the conference room of the French-Nigerien Cultural Center (CCFN NIGER), which aimed to announce activities related to the celebration of the 16th World Day against the Death Penalty in Niger to the media and law students' club of AMD University in Niamey.
On its part, the symposium attracted a crowd of enthusiastic participants and new partners.
To further promote the theme of World Day, thirty supervisors from the Niamey prison were invited under the guidance of the main manager to give the public an idea of living conditions of prisoners in the Niamey prison.
The event was also joined by students, Ulemas representatives, women's associations, magistrates, lawyers, collectives of human rights associations, trade unions, parliamentarians, etc.
Several speeches were made throughout the opening ceremony before the Minister in Charge of Relations with State Institutions, the representative of the Mediator of the Republic , the French Embassy and the EU Delegation to Niger, the representative of the NGO Grandir Dignement Niger who works with underage children in Nigerien prisons. We commend the following interventions:
1. Welcoming address by Commissioner Mr. ALMOUSTAPHA MOUSSA IDE (CNDH);
2. The Spanish Ambassador to Niger, Mr. Ricardo Mor Solá;
3. The Belgian Embassy's representative, Mr. PIERRE CHARLIER;
4. The President of the Nigerien abolitionist movement, the Nigerien Coalition and the NGO REPRODEVH NIGER, SYNAFEN AND ACAT NIGER, Mr. Moumouni ALFARI BALMA;
5. CNDH NIGER, represented by Mr. MOUSSA HAMIDOU TALIBI acting as interim President.
Following the speeches was the panel discussion about the aforementioned theme, moderated by GARBA ILLOU ALMOCTAR, President of the NGO REPRODEVH and Coordinator of the Colloquium, and joined by prominent teachers, researchers, magistrates, lawyers and abolitionist actors from Niger.
Highlights
Sponsored by the National Commission on Human Rights (CNDH NIGER), this symposium:
• brought together about a hundred participants with different backgrounds, including: political leaders, preachers, students, researchers, journalists, prison administration staff, civil society and abolitionist actors, trade unions, NGOs, teachers, diplomatic missions, government officials, representatives of Niger's institutions, etc;
• created a forum for discussion in favour of the abolition of the death penalty in Niger and advocated Niger's vote on the draft Additional Protocol to the African Charter on Human and Peoples' Rights on the abolition of the death penalty in Africa;
• garnered significant media attention in Niger; and
• was carried out/organized successfully.
Difficulties:
• Lack of financial and logistical resources;
• Difficulties in getting abolitionist actors from the eight regions of Niger and international experts to participate;
• Insufficient production of Nigerien death penalty documentation
• Insufficient means to promote the event
Needs : Financial and Logistical Resources
1. Printing of the bulletin (notes from the symposium) and steering committee and experts of the symposium, for a wide dissemination of actions on the death penalty;
2. Producing a documentary film accompanying the conference and web design for the Nigerien Coalition against the Death Penalty;
3. Financing the activity program of the Nigerien coalition and institutional support.