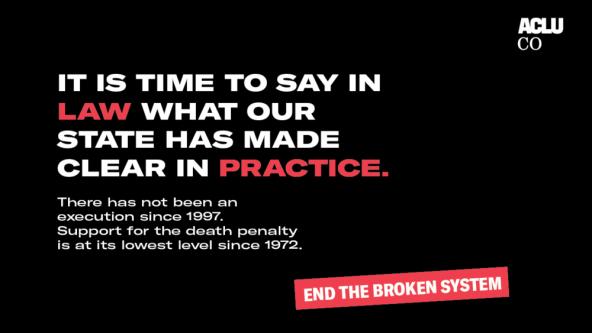 How Colorado became the 22nd abolitionist State in the USA
Good news
On March 23 2020, the Governor of the State of Colorado, Jared Polis, signed legislation abolishing the death penalty. The bill SB20-100 had passed the Senate by a 19-13 vote on January 30 and the House by a 38-27 vote on February 26. He also commuted the sentences of the three people on death row in the state.
Long Walk to Abolition: how abolitionists made it happen
In a fascinating article, the ACLU of Colorado explains "How Colorado Finally Repealed the Death Penalty": "For more than twenty years, an evolving coalition of victims' family members, corrections officers, defense attorneys, prosecutors, faith leaders, and civil liberties champions have worked relentlessly to end the death penalty in Colorado. In 2019, following a democratic sweep of both the legislature and the Governor's office, many thought repeal was inevitable. Unfortunately, the state senate could not bring the bill across the finish line. In response, the ACLU of Colorado launched an ambitious, multifaceted, bipartisan, and community-driven campaign to finally end the broken death penalty."
For example, early in the campaign, ACLU Colorado organised community conversation in Aurora and other cities, where the majority of death penalty cases were pursued. Through a coalition of organisations, they organised postcard parties, letters to the editor, asked questions to legislators at town halls to raise awareness. They also gathered an extensive collection of stories and statistics in the ACLU of Colorado report, "Ending A Broken System: Colorado's Expensive, Ineffective and Unjust Death Penalty."
Defense attorneys broke down the staggering costs of each case, exonerees testified to the flaws of the death penalty and victims' families whose loved ones were murdered shared why, even in the face of such tragedy, they were firmly against the death penalty, in videos, at a press conference, and during testimony at the capitol. Faith leaders also participated in community events and signed a letter condemning the immorality of the death penalty. Finally, they organised an "End the Death Penalty Lobby Day" at the beginning of the legislative session in January 2020 during which nineteen corrections officers joined a sign-on letter urging legislators to end the death penalty based on the harm it causes public servants tasked with performing executions, twenty-seven Colorado prosecutors joined a sign-on letter explaining that using executions as a bargaining chip increases the risk that innocent people will plead guilty to a crime they did not commit and victims' family members drafted a letter with 70 signatures explaining how the death penalty process forced them to relive the trauma of murder over decades, undermining the healing process.
Abolition was made possible "thanks to a community-driven campaign that uplifted stories of people directly impacted by this legislation. We dug into Colorado-specific facts on the costs and inequities of the system and coordinated a network of activists to hold legislators accountable."
"It is time to say in law what our state what our state has made clear in practice"
As many other States in the USA and worldwide, this abolition was preceded by a period of very limited use of the death penalty. The state's only execution since the U.S. Supreme Court reinstated capital punishment in 1977, was more than 20 years ago, in 1997, and the last sentence, by jury, 10 years ago, in 2010. Also, on 22 May 2013, then-Governor John Hickenlooper imposed a moratorium on executions. In his Executive Order, the governor stated, "If the State of Colorado is going to undertake the responsibility of executing a human being, the system must operate flawlessly. Colorado's system for capital punishment is not flawless."