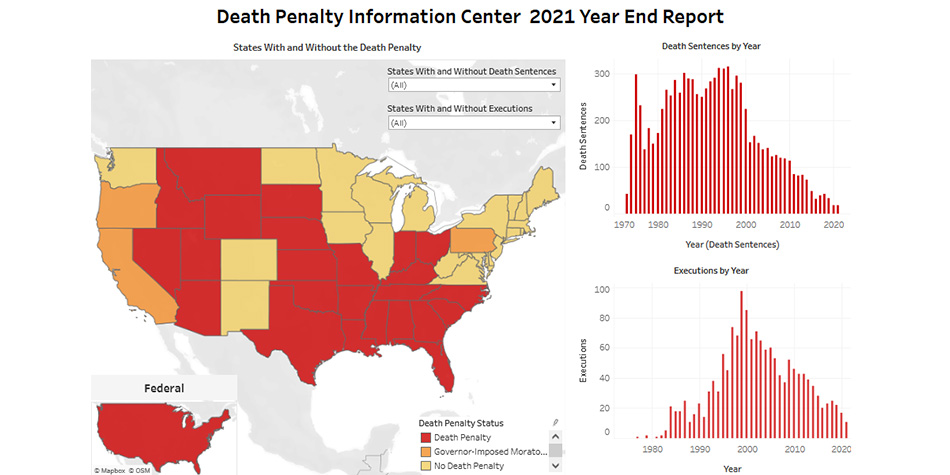 Executions and Death Sentences Near Record Lows in 2021 in the USA
Statistics
Virginia's historic abolition of the death penalty highlighted a year in which public opinion polls, executions, and new death sentences all signaled continued erosion of support for capital punishment across the United States.
Five states and the federal government carried out 11 executions in 2021, down from 17 executions in 2020. The 11 executions conducted this year were the fewest since 1988.
The pandemic contributed to these historically low numbers, but the trend is clear: 2021 marked the seventh consecutive year where there were fewer than 50 death sentences and 30 executions.

"We are seeing fewer and fewer executions, but those that do occur demonstrate that the death penalty is not reserved for the worst of the worst, but the most vulnerable of the vulnerable," said Ngozi Ndulue, DPIC's Deputy Director.
"The federal government began 221 with the last three executions of the historically aberrant federal execution spree, 2 executing people with severe mental illness, intellectual disability, and unexamined evidence of innocence. The state executions since then followed the same pattern. All but one prisoner executed this year had significant impairments such as serious mental illness; brain injury or damage; an IQ in the intellectually disabled range; or chronic serious childhood trauma, neglect and abuse."

With Virginia's abolition in March, a majority of states have now abolished the death penalty (23) or have a formal moratorium on its use (3). An additional ten states have not carried out an execution in at least ten years.
Attached documents