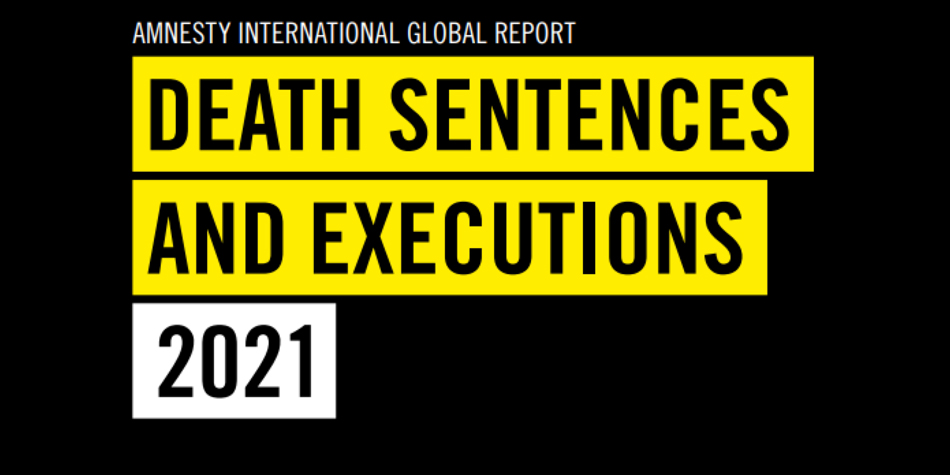 Executions on the rise, but progress toward abolition in 2021 
Statistics
On 24 May, Amnesty International published their annual report on the global use of the death penalty, which shows the overall sentences and executions in 2021
Global figures
Amnesty International recorded 579 executions in 18 countries in 2021, an increase of 20% from the 483 recorded in 2020. Despite these increases, the 2021 global executions figure constitutes the second-lowest figure recorded by Amnesty International since at least 2010. For the second consecutive year, the number of countries known to have executed people was the lowest the organization has recorded. In 2019, 2020 and 2021 Amnesty International recorded 657, 483 and 579 executions respectively.
Amnesty International did not record any executions in India, Qatar and Taiwan, having done so in 2020.
In July, Sierra Leone's parliament unanimously adopted an Act which abolishes the death penalty for all crimes. Kazakhstan adopted legislation in December abolishing the death penalty for all crimes, which came into effect this year. Papua New Guinea embarked on a national consultation on the death penalty, which resulted in the adoption of an abolition Bill in January 2022, still to come into force. The Government of Malaysia announced that it would table legislative reforms on the death penalty in the third quarter of 2022.
At the end of 2021, more than two thirds of the world's countries had abolished the death penalty in law or practice. 108 countries, a majority of the world's states, had abolished the death penalty in law for all crimes and 144 countries had abolished the death penalty in law or practice. 55 countries still retained the death penalty.
Amnesty International recorded commutations or pardons of death sentences in 19 countries: Bangladesh, Botswana, Democratic Republic of the Congo, Guyana, India, Indonesia, Iran, Malaysia, Myanmar, Pakistan, Sierra Leone, South Sudan, Taiwan, Thailand, Trinidad and Tobago, UAE, USA, Zambia and Zimbabwe.
Amnesty International recorded seven exonerations of people under sentence of death in four countries: Bahrain (1), Kenya (1), USA (2) and Zambia (3).
Gambia, Kazakhstan, Malaysia, the Russian Federation and Tajikistan continued to observe official moratoriums on executions.
Attached documents