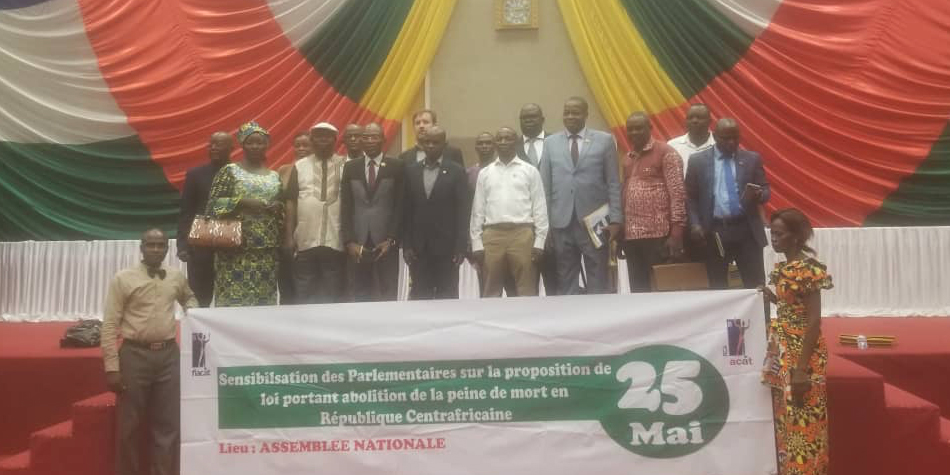 Central African Republic Becomes 24th African State to Abolish the Death Penalty
Good news
The President of the Central African Republic promulgated the law abolishing the death penalty on June 27 2022, one month after the National Assembly passed the law. CAR is now the 24th abolitionist state in Africa and the 111th in the world.
The adoption of this law allows the CAR to join the majority of countries in the world that have abolished the death penalty.

– Brice Kevin Kakpayen, Chair of the Commission, "Institutions, Democracy, Judicial and Administrative Affairs."
This historic step is the culmination of intense advocacy work by civil society led by ACAT-CAR and parliamentarians that the International Federation of ACATs (FIACAT) and Together Against the Death Penalty (ECPM) have actively supported for many years. Furthermore, the long-standing commitment of the CAR authorities to abolition (last execution dates back to 1981) is now taking shape. President Faustin-Archange Touadéra made a strong commitment to finalizing the CAR's abolitionist stance during his inaugural speech for his second term of office on March 31, 2021.
ECPM and FIACAT congratulate civil society, including ACAT-CAR, for its advocacy work with the authorities and for its work to raise awareness among the Central African population in recent years.
We are very satisfied, but aware that we will have to raise awareness among the population.

– Bruno Gbiegba, ACAT-CAR's abolitionist advocacy coordinator.
ACAT-CAR, ECPM and FIACAT congratulate the members of parliament and the CAR authorities for their commitment and for this huge step forward for human rights. Following the recent abolitions in Sierra Leone and Chad, the abolition of the death penalty in CAR confirms the strong abolitionist trend on the African continent.
The abolition of the death penalty is a tremendous symbol sent by the Central African authorities to the international community. We invite President Touadéra to join us at the 8th World Congress against the Death Penalty scheduled to take place in Berlin, Germany this fall, from November 15 to 18.

– Nicolas Perron, ECPM Program Director
The CAR must now complete this process by ratifying the Second Optional Protocol to the International Covenant on Civil and Political Rights aiming at the abolition of the death penalty.
ECPM and FIACAT will continue to support abolitionist actors in the CAR for these next steps.