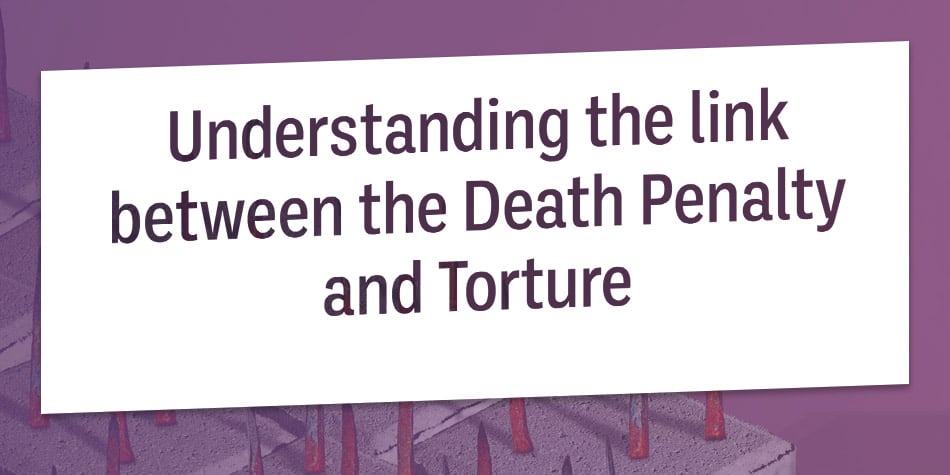 International Day in Support of Victims of Torture: Understanding the link between the Death Penalty and Torture
World Day
Today, 26th June 2023, the world is commemorating the International Day in Support of Victims of Torture (International Day). Started in 1987, this International Day began when the United Nations Convention Against Torture and Other Cruel, Inhuman or Degrading Treatment or Punishment (UN Convention Against Torture) came into force; a crucial legal text to combat torture. Dedicated to people who have been victims of and to those who endure torture today, this International Day promotes awareness and actions to eradicate torture.
As the upcoming 2023 World Day Against the Death Penalty will continue to explore the relationship between torture and the death penalty, the 26th of June is an opportunity to underline to what extent the death penalty can be a tortuous practice in and of itself.
The current definition of torture in international law excludes the death penalty
According to current international standards, the death penalty is not considered an act of torture. Indeed, Article 1 of the UN Convention Against Torture defines torture as "any act by which severe pain or suffering, whether physical or mental, is intentionally inflicted on a person…." Under this definition, the prohibition of torture is universally recognized as a fundamental jus cogens norm which refers to a peremptory and non-derogable international customary law. If death penalty were to be recognized as torture or other cruel, inhuman, or degrading treatment or punishment (CIDTP) it will ineluctably be entitled as a jus cogens norm.
This definition, however, does not include "pain or suffering arising only from, inherent in or incidental to lawful sanctions". Stated plainly, because the death penalty is a lawful sanction, it cannot be considered torture under international standards. The death penalty is strictly regulated under international laws but is not prohibited. Under many domestics laws, as well as international law and standards, capital punishment is excluded as an act of torture per se, despite the fact that numerous types of torturous conditions, psychological and physical, can be experienced during the application of the death penalty.
On 4th May, 2023, Professor of Law John Bessler published an article for the University of Oxford Death Penalty Research Unit untitled "A Torturous Practice: Prohibiting the Death Penalty's Use Through a Peremptory Norm of International Law". In the article, Professor Bessler presents a new interpretation of how international standards can be used to recognize the death penalty as a form of torture; essentially in understanding the relationship between psychological torture and the threat of death. Death threats, and methods such as mock executions – when an individual is made to believe that their execution is imminent, when in fact it is not – are "ordinarily" recognized as psychological torture. The very nature of the death penalty itself is includes a threat of death as a legal sanction, which implies a psychological distress that goes with it. This distress can result in Death row phenomenon, which refers to the emotional and physical distress suffered by the condemned person in difficult conditions of detention while awaiting execution. Several national jurists have recognized the death row phenomenon as CIDTP. The psychological effect suffered by those who are sentenced to death illustrates the cruelty of the death penalty, which is not limited to the moment of execution, but manifests itself throughout the entire process. Therefore, according to this new interpretation, the prohibition of psychological torture under international is incompatible with the hand down of death sentences and executions.
A growing consensus on considering the death penalty as an act of torture per se
The abolition of death penalty is on a growing path worldwide with more than 125 countries which have abolished death penalty in law or in practice. At the same time, the concept of torture has acquired a broader meaning throughout the past 20 years. Nowadays, a large part of the international community, civil society organizations and the academic world share are in agreement that capital punishment is inherently incompatible with the prohibition of torture and CIDTP. Based on this common ground, many abolitionists urge that the death penalty be recognized per se as a form of torture. This vision of the death penalty as a tortuous practice itself is also gaining a resonance in national and regional court. Recently, the path towards recognizing the death penalty as torture in itself has been strengthened by the positions taken by several abolitionist actors:
In October 2022, UN Special Rapporteur on Torture and Other Cruel, Inhuman or Degrading Treatment or Punishment, Alice Edwards, and the Special Rapporteur on Extra-judicial summary or arbitrary executions, Morris Tidball-Binz, published a joint declaration addressing the relationship between the death penalty and the absolute prohibition of torture.
In October 2022, the Chairman of the Human Rights Commission of Pakistan has issued a statement demonstrating that the application of capital punishment is equivalent to torture.
In December 2022, the African Court on Human and Peoples' Rights issued two judgments regarding the death sentences of Marthine Christian Msuguri and Ghati Mwitatwo individuals in Tanzania and declared that the psychological impact of a death sentence constitutes inhuman and degrading treatment and urged the Tanzanian authorities to amend the death penalty laws.
For World Day Against the Death Penalty 2022, the World Coalition Against the Death Penalty has received various testimonies by former and current peoples under a death sentence who explain in their own words how the death penalty continues to be an experience full of physical and psychological trauma and torture: The description of ill-treatment such as coercion and psychological torture in these testimonies flags out the resulting pain and distress from the capital punishment sanctions which undoubtedly constitute torture or CIDTP.
To find out more about the World Day Against the Death Penalty, visit this page.