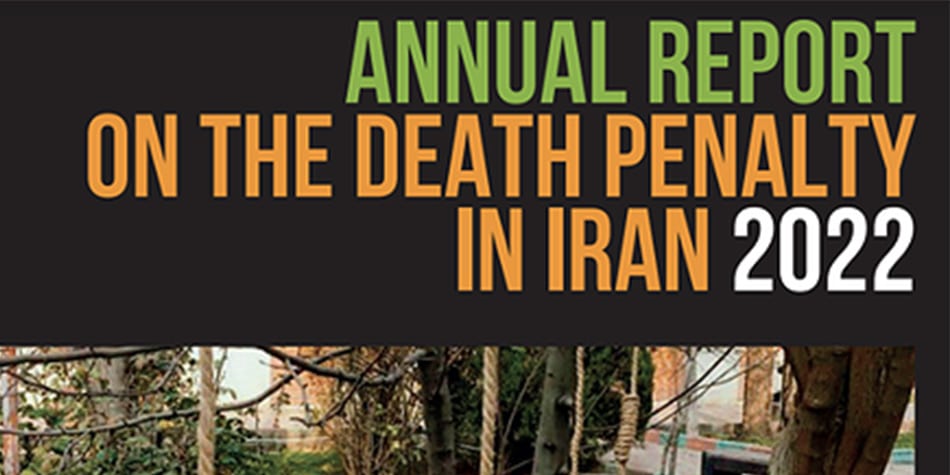 Annual Report on the Death Penalty in Iran: Alarming Increase in Executions
Statistics
As of 12 September 2023, Iran Human Rights reported that at least 499 people, including 13 women were executed in 2023, which represents an alarming rise compared to the same period in 2022.
An alarming situation
On April 13th, 2023, Iran Human Rights (IHR) and Ensemble contre la peine de mort (ECPM) released their 15th Annual Report on the Death Penalty in Iran, revealing an alarming increase in the number of executions in 2022. At least 582 people were executed in 2022, compared to 333 in 2021, which represent a 75% increase. This number is more than double the number of executions in 2020 (267 people executed). Amongst these executions, only 71 executions, representing 12% of all recorded executions, were actually announced by official sources, compared to 16.5% in 2021 and an average of 33% in 2018–2020.
The launch of the report raises awareness on Iran's worsening situation and comes amidst growing protests in Iran, which has seen massive popular demonstrations since the death of Mahsa Amini on September 16 at the hands of the Iranian morality police. The protests have been harshly repressed by the government, and the death penalty has increasingly been used as a tool of repression against political opponents and protesters.
Continued and increased use of the death penalty for drug offenses, for women and for minorities (Baluch people)
At least 256 people were executed for drug-related charges in 2022, compared to 126 in 2021, representing an increase of 103%. In comparison, an average of 26 people were executed for drug charges per year in 2018–2020.
According to the report, at least 3 juvenile prisoners were executed. Regarding women, at least 16 of them were executed. Ethnic minorities, and particularly the Baluchi minority, were once again overrepresented in the number of executions. Baluch prisoners accounted for 30% of all executions, as compared to 21% in 2021. In relation, the Baluch people only account for 2-6% of Iran's populations.
Retreating from last year's progress, which was the first year in over 15 years where no public executions were reported, the report indicates at least two people, including one protester, were hanged in public spaces.
Today, Iran has the highest number of executions after China, and is the world's top executioners of women. The report shows that at least 16 women were executed in 2021, remaining almost identical to last year's number, and none of the executions were officially announced. Amongst these 16 women, 3 of them were executed for drug-related charges and 13 of them were executed for murder charges, and 5 of these women were executed for the murder of their husbands; as the report explains, it is interesting to note divorce is not legal in Iran. At least one woman was a child bride, and one was in a forced marriage. Another woman was executed for a murder committed in self-defense against rape by her landlord.