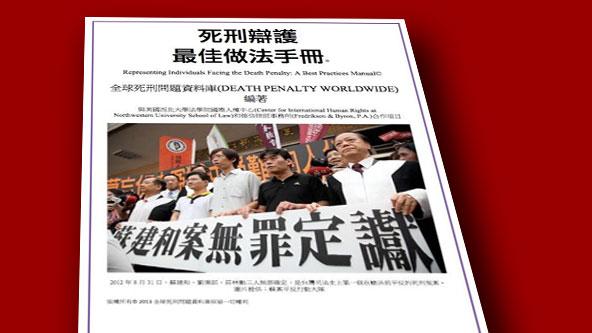 Lawyers' manual published in traditional Chinese
Advocacy
This guide was made possible through cooperation between Death Penalty Worldwide, a website managed by Sandra Babcock, Professor at the Center for International Human Rights, Northwestern University School of Law; the World Coalition Against the Death Penalty; and lawyers from around 15 countries including Taiwan and China.
The traditional Chinese version follows the publication of the English and French editions last May. It was revised by TAEDP, lawyers Geoffrey Weng, Ellen Lee, Yu-ning Chen and Professor Monghwa Chin.
In the video below, Geoffrey Weng explains the difficulties faced by attorneys in Taiwan:
This version is now available for download by defence lawyers working on capital cases.
A simplified Chinese version will soon follow after revisions by lawyer Teng Biao of China Against the Death Penalty.
Watch Teng Biao explain how the manual is going to help attorneys in China:
In a statement welcoming the publication of the Chinese version, Prof Babcock said: "Taiwanese and Chinese lawyers are facing enormous difficulties when they defend people facing the death penalty. Those cases are a lot thornier than the average criminal case. I hope this manual will be useful to them and will help them advocate more efficiently for their clients' rights to a fair trial, from the time of their arrest to their final appeal."
Watch an interview with Sandra Babcock on the making of the manual below:
TAEDP, the Legal Aid Foundation and the Human Rights Commission of the Taipei Bar Association are planning a series of workshops in 2014 to teach lawyers how to best use the guide.
The three organizations are also planning to adapt the manual to publish a guide dedicated to defence lawyers in capital cases in Taiwan specifically by the end of 2014.
What is Cities for Life?
On November 30, 1786, the Grand-Duchy of Tuscany became the first European State to abolish the death penalty. The Community of Sant'Egidio has decided to celebrate Cities for Life day every year on November 30.
On that evening, participating cities illuminate one of their monuments as a sign of respect for life and rejection of the death penalty, as there can be no justice without life. Some 1,600 cities are expected to take part in Cities for Life in 2013