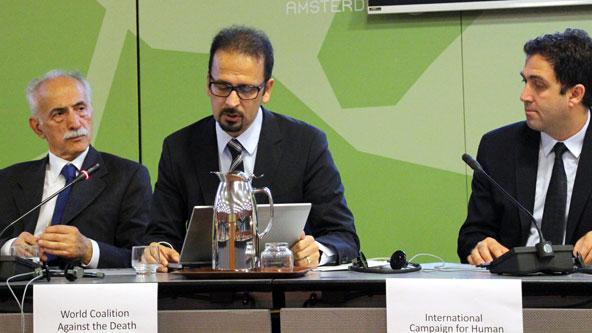 NGOs join forces to tackle capital punishment at Iran's rights review
International standards
Four years ago, 29 of the recommendations addressed to Iran by the world's nations at its Universal Periodic Review of human rights (UPR) related to the death penalty. Iran accepted three, and activists monitoring the country found that only one – the exclusion of some religious offences from capital crimes – has been implemented.
Through increased co-ordination and targeted international advocacy, they believe Iran and the international community can do better at the new UPR session this Friday.
Among the documents forming the basis the discussion, a detailed report submitted to the UN Human Rights Council by the Advocates for Human Rights on behalf of the World Coalition and four of its members explains how many aspects of the administration of the death penalty in Iran violate international human rights law.
Iran Human Rights (IHR), one of the report's author organisations, also delivered a statement on their behalf at Iran's pre-UPR session on October 8 (photo above), recommending specific action on issues such as executions by stoning or those targeting ethnic minorities.
"Representatives from many countries took part, including the Islamic Republic. My understanding is that the death penalty is once again going to be a main focus of the world's recommendations to Iran," said IHR's spokesman Mahmood Amiry-Moghaddam.
Focus on public and drug-related executions
At the previous UPR, many countries called on Iran to respect broad human rights principles. "This year, our goal has been to address both principled areas as well as more detailed ones: for example, public executions, the death penalty for drug-related charges and the lack of right to appeal in those cases," Amiry-Moghaddam added.
More broadly, IHR is one of four World Coalition members among the 13 NGOs who have joined forces to improve the international community's response to human rights abuses in Iran through the ImpactIran campaign.
"We have been working together to help the UN's special rapporteur on Iran to compile his reports, to prepare for the UPR, to meet member states' delegations and suggest recommendations to them or go and speak before their parliaments," said Taimoor Aliassi, representative to the UN for the Association for Human Rights in Kurdistan of Iran-Geneva (KMMK-G).
The members of ImpactIran say increased coordination has helped them achieve a wider international reach and stronger impact through joint submissions to the UN – and they will keep up the co-operation in the future to monitor the implementation of UPR recommendations, as they have begun to do on a striking visualization website.
"Iran will make more promises, and we will continue to cooperate with the UN and the World Coalition to check that they are kept – and to denounce that those human rights violation that will unfortunately continue," said Aliassi.
Photo: JFI/Iran HR
Attached documents