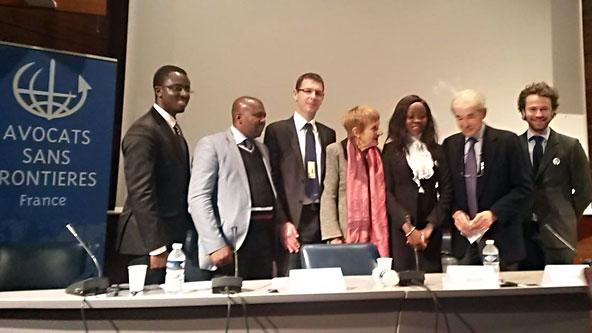 The strategic path to abolition in Nigeria
Africa
The conference, which was presided over by France's former Minister of Justice and "father" of abolition Robert Badinter, saw lawyers from Avocats Sans Frontieres (ASF) France and their Nigerian colleagues share their experiences and strategies to abolish the death penalty in Africa's most populous state.
The lawyers stressed the need for a well-developed strategy for abolition in Nigeria, after a moratorium on the death penalty that was established in 2006 ended in 2013 with four hangings.
Oluwatosin Popoola, a Nigerian lawyer working for Amnesty International, reminded the attendees that Nigerian President Goodluck Jonathan continues to tell State Governors that they "must sign [execution warrants] because that is the law."
Catherine Mabille of ASF France affirmed that in Nigeria, the legal process goes along the simple lines of "torture, confession and then sentencing"
"We need to strengthen the skills of the lawyers that work against the death penalty," she insisted.
Strategic litigation in regional court
ASF lawyers shared the positive results from two strategic cases brought before the regional ECOWAS (Economic Community Of West African States) Court of Justice.
Nigerian lawyer Kolawole Ogunbiyi explained that in the first case, the court initially granted an "injunction to prevent the government from executing Mr. Thankgod" and in a later judgement "ordered the Nigerian government to remove Thankgod's name from death row."
In the second case the "ECOWAS Court made a bold judgement on the non-applicability of the death penalty on minors", remarked Angela Uwandu, another Nigerian lawyer with ASF.
Cécile Ostier, a French ASF lawyer, was pleased to note that the ECOWAS Court "accepted arguments from other regional courts" and that these judgements showed that there is a "real dialogue on the death penalty" at the ECOWAS Court.
"The aim is to establish a moratorium first before challenging the death penalty as illegal" said Uwandu.
Campaign pressure
The lawyers also stressed the need to campaign strategically.
"Campaigning and sensitising the public in parallel with strategic litigation are very important," said Jean-Sébastian Mariez of ASF France, referring to the strong media campaign that was undertaken around the time of the cases before the ECOWAS Court.
"It is essential for advocates to refer to the death penalty as a human rights issue rather than a criminal law one," Popoola asserted. "We have found that arguments are more persuasive when premised on human rights law."
"Putting pressure on authorities at the right time and in the right way really does work," remarked Popoola.
With the text of the Protocol to the African Human Rights Charter on the abolition of the death penalty soon to be adopted, even more pressure can be applied on the Nigerian government.
At the end of the conference, Robert Badinter reminded the audience that "only Africans can abolish the death penalty in Africa… we're only there to help."