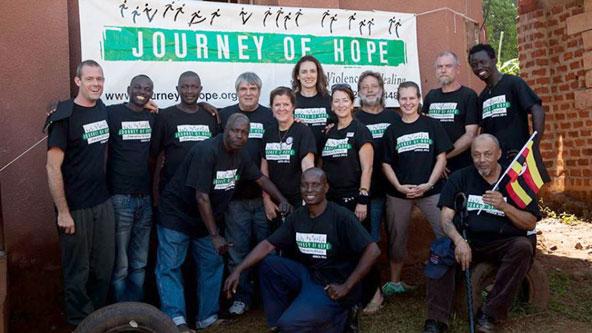 Ugandan tour exemplifies abolitionist collaboration
Africa
Collaboration between abolitionists is nothing new. Sometimes this is done on a grand scale, such as the triennial world congresses against the death penalty. But the global fight against the death penalty also benefits from partnerships on a smaller scale.
The Journey of Hope… From Violence to Healing's recent mission to Uganda in November at the request of former death row prisoner, Edward Mpagi, reminds us how effective collaboration between abolitionists can be at the local level.
"I invited the Journey of Hope to come to Uganda to help me to create awareness among Ugandans about the dangers of the death penalty," Mpagi said.
The 'Journey' also helped launch Ugandans Against the Death Penalty which is now working on registering members country wide.
"We had radio, TV talk shows, a press conference, we visited different schools, women death row prisoners and churches. That has created great awareness among the local population about the dangers of death penalty," Mpagi said.
"The Journey has sparked the fight against the death penalty in Uganda. I saw prominent religious leaders changing their stand on the death penalty after meeting the Journey's speakers," he remarked.
Collaboration of this sort is desperately needed as some conservative politicians and religious figures have been pushing for homosexual acts to be punishable by death in recent years. The controversial "kill the gays bill", however, was not enacted, much to the relief of the local LGBT community.
More recently, abolitionists were pleased to see that the country abstained from voting on a United Nations resolution on a moratorium on the use of the death penalty. The country had previously voted against the resolution and signed the Note Verbale of Dissociation.
Doors open to spread "love and compassion"
The United States-based Journey of Hope and its founder Bill Pelke have a history of touring to spread the organisations simple message that the "Answer is love and compassion for all of humanity."
The Journey of Hope has travelled to 16 countries and about 45 states. Journeys are organized by the state or country coalitions hosting the event. "We could not hold successful events without the help of grass roots organizers in the state or country," said Pelke.
His first opportunity to tour Africa presented itself in 2010.
Mpagi "asked me if the Journey of Hope could come to Uganda to help him in his lonely struggle against the death penalty. Doors opened and we were able to go to Uganda with a team of four and help plant seeds of abolition," Pelke said.
On the 2010 Uganda Journey, Pelke, Mpagi and two other American and Ugandan activists travelled to Rwanda for a meeting of 25 African nations on the issue of the death penalty.
In 2014, Pelke had another opportunity to travel to Africa and contacted Mpagi again.
"The Journey of Hope put together a team of ten for the return visit. Edward informed us that he would like to launch Ugandans Against the Death Penalty during our November 12-24 visit and that became one of our top priorities in our fundraising efforts," Pelke said.
"We receive no grants or any sort of major funding," he noted. "For this Africa Journey there were over 160 personal donations and five national or state (abolitionist) organizations donated."
Photo : Scott Langley