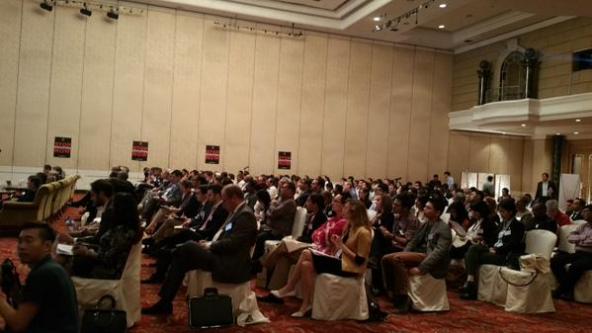 "We need to feel the reality of the death penalty"
Asia
Feel the public opinion around the death penalty
Mathilda Bogner, OHCHR South East Asia regional representative, underlined the fact that politicians always use public opinion to justify the death penalty as support for the death penalty always remains high. As Chow Ying Ngeow, representative of ADPAN, mentioned, a debate on the death penalty can turn really emotional. "In Taiwan for example, people working for organizations against the death penalty receive threatening messages", she said.
Julian McMahon, the Australian lawyer who represented Myuran Sukumaran and Andrew Chan, said that "one of the difficulties in Indonesia was the lack of knowledge of the population around the death penalty". There is simply not enough public debate going on.
The role of the media was also highlighted as they have a real impact on public opinion. For example, Tan Sri Muhammad Shafee Abdullah, Malaysian representative to the ASEAN Intergovernmental Commission on Human Rights, acknowledged that media can "demolish potential kind gesture in diplomatic negotiations".
Feel the heavy legal system around the death penalty
In Malaysia, the death penalty remains mandatory for a person sentenced for murder and drug trafficking. This is problematic in many ways, especially for drug trafficking when drug cases are the easiest cases to be found guilty for. As police officers have quota of the number of arrests to reach, they are more efficient in drug cases. Also, because of the bad image, "few lawyers in Indonesia want to be associated to this". This is how Ricky Gunawan, Director of the Community legal aid institute in Indonesia, explained Indonesia's addiction to death penalty.
Once arrested, the burden of proof is too heavy. Steven Thiru, president of the Malaysian bar said "in Singapore, you have 3 presumptions of guilt. When you are found with a certain quantity of drug you are presumed trafficking. When you are found with an object in which there are drugs, you are presumed to be aware of it. Finally, you are presumed to know the kind of drug it was". The person arrested, is mostly represented by an appointed lawyer with no money to hire experts and a proper defense.
Chin-Hsien Chen, a  Taiwanese judge, said "I understood the fact that wrongful conviction is something a judge cannot avoid." But few judges actually acknowledge it. "I believe a judge against the death penalty is a lonely person".
Feel the issue of foreigners
"In Indonesia, the great majority of the persons executed are foreigners. Would it mean that 99% of the traffic is made by foreigners?" Questioned professor Zimring. Foreigners which do not have a fair trial as they are often unable to understand the trial or do not have immediate access to a lawyer. "Most of the time, the local consulate only finds out about it in the local media".
Feel the denial of rehabilitation around the death penalty
The power of rehabilitation must be acknowledged. Governments have to give a chance to a person to have a better life. Myuran Sukumaran and Andrew Chan were examples of this as they totally changed their behavior, apologized for their mistakes and helped other inmates in jail. As Bishop Desmond Tutu, in a video broadcasted at the opening ceremony, said "there is no justice in killing in the name of justice. Hope is our strength and tolerance and forgiveness are our goals."