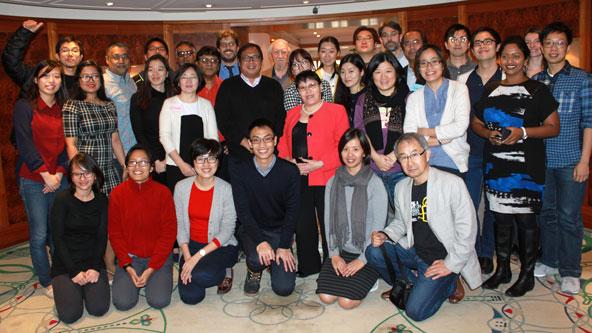 ADPAN network strengthens abolitionists across Asia
Asia
The meeting saw active discussions about the action plan and the agenda for the next two years, including the Regional Congress Against the Death Penalty due to take place in Malaysia in June 2015.
Members of ADPAN shared the diverse situation of the abolitionist movement in their respective countries: "I thought we were the same, but I realise now that Japan is lagging behind countries like Mongolia or South Korea," said Hideki Wakabayashi from Amnesty International Japan.
Those two countries' parliaments are now taking positive steps: a draft proposal for a new Penal Code that would abolish the death penalty is being discussed in Mongolia. In South Korea, a new abolition bill has been introduced.
In other countries, the political situation has a huge impact on the advancement of abolition. Martial law has prevented any progress in Thailand, while Indonesia and Japan's newly elected leaders have announced new executions before the end of the year.
Some participants say the main problem lies in the difficulty for civil society to operate in their own countries, such as Malaysia, Singapore or China.
Sharing innovative ways of campaigning
To overcome such difficulties, Asian activists shared examples of innovative action. The Taiwan Alliance to End the Death Penalty (TAEDP) launched an original Facebook campaign on 10 October to free three people on death row. They created an event page and asked their friends to "tag" one of the three people sentenced to death, Cheng Hsingtse wherever they went. This was used this to explain the case on the social network.
They also created a cardboard cut-out of these three people on death row and took them with them all day long in the city of Taipei. In the metro, in the streets, at the night markets, people asked questions about who the person was and why they were doing it, giving them an opportunity to explain his case. They also made a video to raise awareness further.
"I think the new ideas and different approaches we shared were very interesting. Some people came to me and said they were inspired by the meeting and have some thoughts about what they can try in their own country" said Jiazhen Wu, deputy director of TAEDP.
During its statutory general meeting, ADPAN elected seven members to its executive committee to serve for two years: Arthur Wilson (Pakistan), Batdorj Altantuya (Mongolia), Charles Hector (Malaysia), Ngeow Chow Ying (Malaysia), Puri Kencana Putri (Indonesia), Sinapan Samydorai (Singapore) and Jiazhen Wu (Taiwan).
Counter-arguments to the public opinion excuse
Following the ADPAN meeting, TAEDP organised the international conference "Life and Death in Taiwan " on 6-7 December. The event saw the launch of ADPAN's second "Unfair Trial" report (soon available online) in English and Chinese.
A wide range of issues was debated during the two days, including transitional justice, constitutional and international law as well as alternatives to the death penalty. Yet the liveliest discussions took place during the presentation of a new opinion survey in Taiwan.
Criminology professor Roger Hood explained how governments, especially in Asia, often rely on their own polls or media surveys, which are unreliable. He insisted that NGOs and academics should convey alternative surveys to offer different views and counter the public support argument in favour of the death penalty.
He gave the examples of recent academic surveys conducted in Japan, China and Malaysia to show that public support for the death penalty was much more nuanced that what the authorities want the public to believe.
Sociology professor Chu Hei-yuan said that such a survey has been conducted in 2014 in Taiwan and would be published on 6 January 2015. Its results show that support for death penalty drops if an alternative is offered.
As US death penalty researcher Richard Dieter put it: "The question is not 'are you in favour of the death penalty', but 'are you in favour of letting go of the death penalty for an alternative punishment given all the flaws in the system and the risk of executing innocents'?"
The answers also show a real need for more information. Only 25% of respondents knew about innocence cases in Taiwan and only 16% knew how many people were on death row.