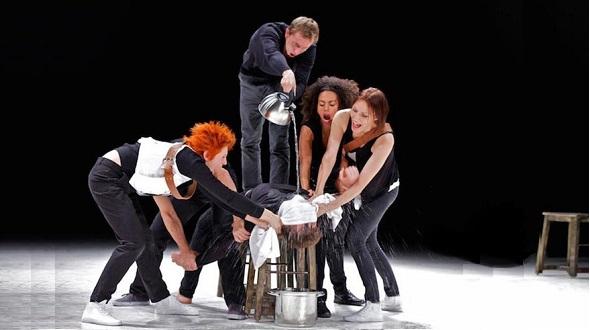 Watch Belarus Free Theatre Live Stream!
Provocative and urgent, Trash Cuisine (2013) pierces the imagination with moments of the darkest humour as it challenges the ongoing existence of capital punishment in the contemporary world. 36 countries retain the death penalty in both law and practice, and Europe remains on the list of continents where capital punishment still exists – in 2015 – because of Belarus.
•    Live Streams
•    Join the Revolution: Community Screenings
This live stream is part of a two-week Festival of performances and discussions in London, UK called "Staging a revolution". It is presented by Belarus Free Theatre, co-produced with the Young Vic from 2 – 14 November 2015.
They are live streaming every show and discussion for free world-wide!
Following each performance, a curated panel of experts, including artists, campaigners, journalists and activists will discuss an area related to each taboo topic and generate fresh ideas around taking up action. It is an approach drawn directly from BFT's work in Minsk where the space for free exchange of ideas and open debate is as valuable as the space in which to see independent theatre.
Underground performances (2-8 November) will take place in unexpected locations in Greater London. These locations will not be identified prior to the performance. Audiences will receive an email confirmation but no ticket will be issued. 24 hours before the performance, audiences will receive a text message detailing a designated meeting point and a time of arrival. There, they will be met by a member of the front of house team and be led from the meeting point to the performance. On arrival at the location they will be asked for a form of identification (in Belarus, audiences members bring passports anticipating the likelihood in case of arrest).