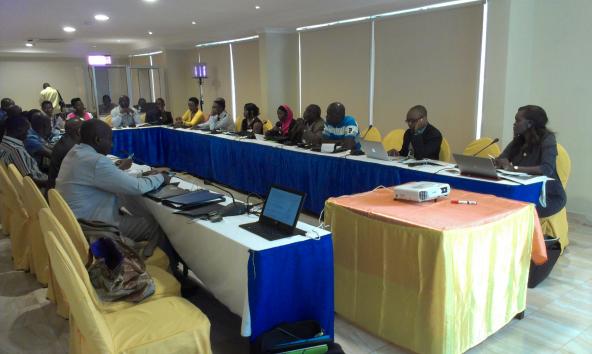 The World Coalition mission in Tanzania and the project on Sub-Saharan Africa
The fight of the members of the World Coalition for the abolition in law of the death penalty in Tanzania
In Tanzania, the fight for abolition is enhanced by the two Tanzanian members of the World Coalition: the Legal and Human Rights Centre (LHRC) – that co-sponsored the training session – and the Children Education Society (CHESO).
The LHRC is a well-established NGO that since 1995 has been engaged in many projects promoting the protection of human rights in Tanzania, which clearly encompass the right to life. Among its numerous activities, every year the LHRC publishes a report on the situation of human rights in Tanzania with the 2015 Tanzania Human Rights Report being launched this month.
CHESO, founded in 2006, is a Tanzanian NGO focusing on children's rights that fights against the death penalty by conducting awareness raising activities aimed at teaching children the importance of the protection of the right to life.
The Steering Committee Meeting
On 15-16 April the World Coalition held in Dar es Salaam a meeting of its Steering Committee discussing, among other issues, the World Congress that will be held in Oslo in June and the tools developed for the 2016 World Day Against the Death Penalty, that will be focused on the death penalty and terrorism.
This is a landmark moment for the Coalition as it is the first Steering Committee session held in Sub-Saharan Africa.
The Training Session
The main focus of the mission to Tanzania was a training session on advocacy towards the abolition of the death penalty in Sub Saharan Africa.
From 17 to 18 April more than 30 participants coming from Botswana, Cameroon, the DRC, Guinea, Kenya, Liberia, Mauritania, Niger, Sierra Leone, Tanzania and Uganda representing World Coalition member organizations based in retentionist Sub Saharan Africa gathered to share ideas, strategies and tools to support the abolitionist campaign in Africa, particularly focusing on the adoption of the Protocol to the ACHPR on the death penalty.
The WCADP visits embassies and institutions in Dar es Salaam
While in Dar es Salaam, the World Coalition delegation had the opportunity to meet with the Head of the Delegation of the European Union to Tanzania, HE Roeland van de Geer, and his team and with the French Ambassador to Tanzania, HE Mme Malika Berak and other diplomats working at the French Mission.
The World Coalition delegation also visited the UN Office in Tanzania, where they have been received by Chitralekha Massey, UN Senior Human Rights Advisor in Dar es Salaam.