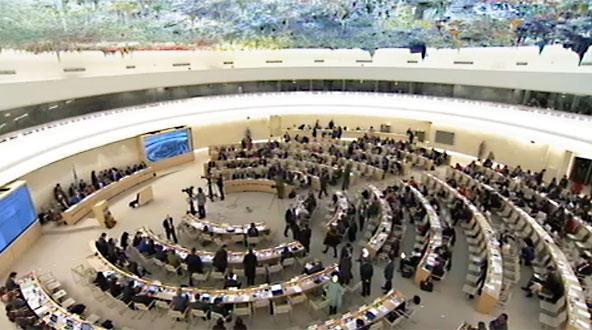 The United Nations Human Rights Council votes in favor of a new resolution on the death penalty
International standards
The death penalty has been on Human Rights Council's agenda since the very beginning of the session in mid-September. Indeed, the High Commissioner for Human Rights presented its report on the high-level panel discussion on the question of the death penalty which took place the 1st of March 2017 during the 34th session of the Human Rights Council. The purpose of this panel discussion was to address human rights violations related to the use of the death penalty, in particular with respect to the prohibition of torture and other cruel, inhuman or degrading treatment or punishment.
The Council also presented the Yearly Supplement of the Secretary-general to his quinquennial report on capital punishment. It pays specific attention to discrimination in the context of the death penalty. An entire part of the report focuses on socio-economic discriminations which echoes the World Day Against the Death Penalty's theme: the death penalty and poverty.
The Council voted a resolution on the death penalty and discrimination.
During informal reunions, the Human Rights Council debated on a project of resolution similar to the yearly supplement.
Benin, Belgium, Costa Rica, France, Mexico, Moldavia and Mongolia presented a project of resolution initiated by Switzerland. This project of resolution underlines the discriminatory aspect of the death penalty and aims to organize a high-level panel on this particular issue during the 40th session of the United Nations Human Rights Council. Moreover, the resolution asks the Secretary General to dedicate his 2019 yearly supplement to his quinquennial report on capital punishment and its consequences on the respect for human rights.
The resolution, co-sponsored by 60 States, was adopted on September 29, 2017, with 27 votes in favor, 13 votes against and 7 abstentions. As it was expected, Egypt and Saudi Arabia wanted to amend the text. These amendments, however, were rejected. Thus, like China, Iraq or Japan, Saudi Arabia and Egypt voted against the resolution.
On death penalty issues, the civil society makes itself heard.
During the session of the Human Rights Council, the civil society advocating for the abolition of the death penalty made itself heard. For instance, Death Penalty project, member of the World Coalition Against the Death penalty, organized a side event on the death penalty in Commonwealth countries. Besides, several organizations of the civil society made statements on the death penalty. A dozen of members of the World Coalition co-signed a joint-statement which congratulated the Secretary General for paying attention to the discriminatory application of the death penalty. As a conclusion, the organizations declared:
"The death penalty is a discriminatory practice, often used against the poor, and should be abolished."
Amnesty International also made a statement congratulating Mongolia for the legislative abolition of the death penalty. Amnesty, which celebrates the 40th anniversary of its abolition campaign, warned the Council about the fate of juveniles sentenced to death in some countries.