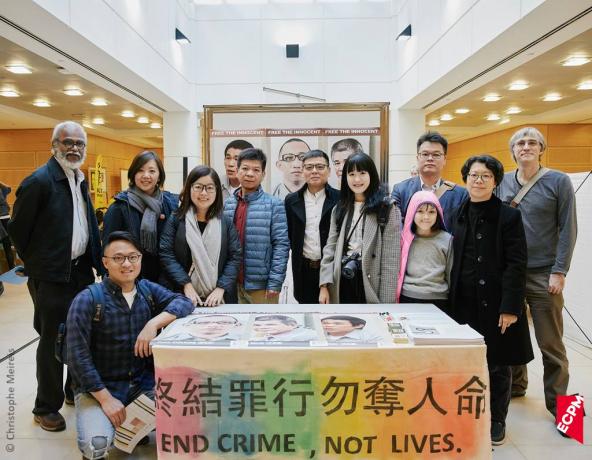 The Undercurrent: How we took part in the 7th World Congress Against the Death Penalty
World Congress
By Wang Peiqi (Executive Secretary of the Taiwan Alliance to End the Death Penalty (TAEDP)), on 7 October 2019
(…)
In addition to taking part in the World Congress Against the Death Penalty, the TAEDP also participated in the WCADP members' conference. The main goal, in addition to hoping to work together on specific cases, was to gain an understanding of global trends, and, even more importantly, to express support for three men unfairly convicted of capital crimes in Taiwan: Qiu Heshun, Xie Zhihong, and Wang Xinfu.
There was a row of stands outside the conference room, and the TAEDP set up posters telling the stories of Qiu Heshun, Xie Zhihong, and Wang Xinfu. Xu Ziqiang and Zheng Xingxe, who only speak Chinese, were able to share their personal experience with international visitors through interpreters. They also called on everyone to sign a petition and express support efforts to help the victims.
At the various conference sessions and workshops, the Anti-Death Penalty Alliance shared its experience in hosting a "Public Discussion on Alternatives to the Death Penalty" during the past year in Taiwan. The Alliance had been working on this project for several years, and it is a new initiative that had never been held in Taiwan before. By organizing public discussions and local workshops, the TAEDP was able to collect and consider people's opinions on alternatives to the death penalty. There were participants who supported, opposed, and felt ambivalent about capital punishment, but the general consensus was that everyone was willing to get together and discuss public issues. As expected, the topics discussed during this fruitful exchange included prison reform, crime prevention, victim protection, and education, among others.
Lin Xinyi, the director of TAEDP who has participated in the WCADP on multiple occasions, said that, on the one hand, sharing news of this event at the congress allowed others to see what we are doing, and, on the other, created an opportunity to hear others' thoughts. International participants of the congress were generally very interested in our public discussion strategy.
"The first time I attended the congress my English was very poor. But when you want to share something with others, you realize that linguistic barriers are not an obstacle, and you try using all kinds of words to explain things to people. Even if the grammar is off, people will still understand you," said Lin Xinyi.

What is the value of a human life?
Going abroad to take part in the World Congress Against the Death Penalty can appear to be in a different universe, disconnected from the lives of ordinary people. Opponents of the anti-death penalty movement often criticize such organizations for "relying on foreign forces, which meddle in Taiwan's domestic affairs." Nevertheless, after participating in the movement for so many years, we have seen how it bring so many people together.
When they were sentenced to death and placed behind bars, Xu Ziqiang, Zheng Xingze, Su Jianhe, Zhuang Linxun, and Liu Binglang were ordinary people like you and me. But if a country with the power to make life and death decisions relies on a flawed system, their lives become as thin as a sheet of paper, easily crumpled or torn. Today they have left the prison walls behind and resumed their previously interrupted lives, exploring life's opportunities with courage.
After returning to Taiwan, Xu Ziqiang and Zheng Xingze were asked at a gathering organized by friends to share some of their thoughts on the trip. I was listening excitedly, thinking of their past experiences, and looking forward to hearing what they had to say.
I was expecting to hear tragic, tear-jerking, melancholy stories, but the two guys, just like any regular friend, gave a detailed account of their first time on a plane, of the size of the airplane seats, of the cold weather in Europe, of security being worse than in Taiwan, of many cold dishes and the inconvenient lack of hot water during meals.

It is only later that I understood – this is life, it's just life.
Life means feeling emotion, human, regular emotion, and as long as you live freely, there is nothing that separates us from one another. Those sentenced to death, on the other hand, are not treated like human beings, and their lives are stolen from them.
This time, while seeking help using the posters about Qiu Heshun, Xie Zhihong, and Wang Xinfu, Ziqiang's and Xingze's personal experience also inspired others. In addition to people wrongly accused and released from prison like Ziqiang and Xingze, victims' families also took part in the WCADP, courageously sharing their stories, which moved and inspire us. In the past, we have accepted plenty of friendly international help. We are also willing to work hard to contribute to helping other organizations if we can.
Xu Ziqiang stated, "Actually, I wasn't sure about what was happening during the congress because I didn't understand English…. But I could still feel that in the EU, people are willing to spend money on helping other countries do things, and that makes me feel very grateful. Because their work is not for their own benefit, since they have already abolished the death penalty. Rather, they are working for others, spending time and money to help others, you just feel very grateful. Their work benefits the whole world, and I am thankful."
At the gathering of friends, Ziqiang said that he was "grateful" several times. These words were spoken with all sincerity by someone who has come back from the darkest of places, a former prisoner on death row. Ziqiang was extremely levelheaded as he described the reasons for our support, for not giving up, for striving towards our goals and aspirations.
Epilogue
Not long after returning home from the congress, we received some good news from Xie Zhihong!
On March 13, the Tainan Branch of the Taiwan High Court ruled that Xie Zhihong's death sentence was to be reviewed and suspended the execution of the penalty. On March 14, after losing over 6,800 days, or 18 years, of his life in prison, Xie Zhihong was finally released! On that afternoon, we saw Zhihong, unshackled, reaching for his elderly mother's hand. He had finally come home.
This is when Xie Zhihong broke free from the poster and the times when we were separated by a barred window in a prison visiting room; instead, he was with us in the flesh and bone. Xie Zhihong is here in person. Zhihong has come to the TAEDP office to take a picture with a photo cutout of the others wrongly convicted of capital crimes. People like Xu Ziqiang, Zheng Xingze, and Xie Zhihong will continue on with their lives. Hard work and the support of many has given them real hope. We will not give up, and one day, the sufferings of those on death row will come to an end, and people will no longer be wrongly executed. The lives of Qiu Heshun, Wang Xinfu, and others whose names are not yet known to us will be able to blossom beyond the barred prison window.
Photo : Christophe Meireis