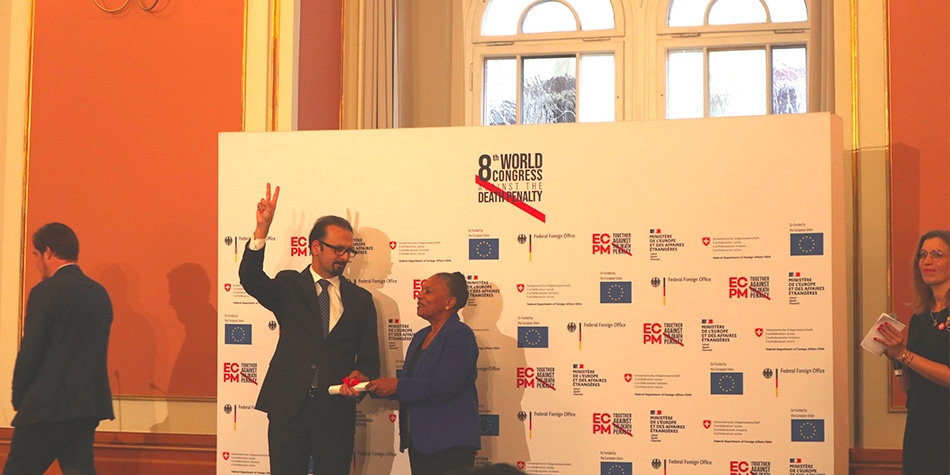 A Very Moving and Inspiring Closing Ceremony
World Congress
The Closing Ceremony of the 8th World Congress celebrated people who play an immense role in the process of the abolition of the death penalty, with an awards ceremony and a tribute. 
Beautifully hosted by ECPM Deputy Director Ariane Grésillon and World Coalition's President Matthew Goldberg, the Closing ceremony was the peak emotional moment of the World Congress. Laughter and tears followed one another throughout the morning.
Abolition Awards Ceremony
Official statements by the UN, Former Minister of Justice Christiane Taubira, and others were followed by the abolition awards ceremony.
The Grand Prix "Robert Badinter" was awarded to Iranian lawyer Nasrin Sotoudeh who has pleaded in many capital cases, managing to prevent a number of executions, including juvenile offenders, and has also been involved in LEGAM ("Campaign for step by step abolition of the death penalty"), along several prominent Iranian human rights defenders. In March 2019, Nasrin was sentenced to 38 years of imprisonment and 148 lashes over 7 charges, including "participating and giving a speech at an illegal gathering", because of her activity with LEGAM. The award was accepted by Mahmood Amiry-Moghaddam, Iran Human Rights on her behalf. In a letter addressed to the World Congress she asked abolitionists to be the "eyes and ears of Iranians during these difficult days".
The Defense Award went to RACOPEM, Cameroon, and Justice Project Pakistan who successfully represent people on death row in their country.
The Research Award went to Project 39A, India, whose extensive research and publication pool created awareness and even changes in legislation.
The Advocacy Award was granted to ACAT-CAR (Central African Republic), a member of FIACAT, for their broad advocacy work involving several actors to abolish the death penalty.
Last but not least, the Innovation Awarded was awarded to Justice to Keith LaMar/Keith LaMar (USA) and Albert Marquès (Catalonia) who seek justice for Keith LaMar's wrongful conviction by among other things giving him a voice through music.
Throughout the closing ceremony we were accompanied by songs of their album "Freedom First" in which melody is combined with Keith LaMar's spoken words. This was followed by a phone call in which Keith LaMar thanked his team and the people who are standing behind him and continue to fight against injustice.
Memorial
While celebrating the new generation of worldwide abolitionists with these awards and listening to their moving testimonies of past experiences, participants to the closing ceremony also took a few minutes to remember friends and colleagues who have passed since the 1st World Congress in 2001: Kumamoto Norimichi, Japan ; Martin, aka Marty McCLAIN, USA ; Natman SCHAYE, USA ; Wiley BRIDGEMAN, USA ; Damon THIBODEAUX, USA ; Aundre Herron, USA ; John Brosnan, Australia ; Phil Opas, Australia ; Henry Schwarzschild, USA ; Nigel Rodley, UK ; Nancy Anderson, Jamaica ; Peter Schmer, USA ; Sakae Menda, Japan ; Jacques DERRIDA, France ; Tamara Chikunova, Uzbekistan/Italy ; Patrick Lwanga Zizinga, Uganda ; Kamran Arif, Pakistan ; Christoph Heyns, South Africa ; John Nyoka, Tanzania ; Carroll Pickett, USA ; Karl RODENBERG, Germany ; ABDERRAHIM BERRADA, Morocco ; Mohamed Ahdaf, Morocco ; Tommy Anthony Sando Sr., Liberia ; Justice Edmond, Sierra Leone ; Brian Roberts, USA.
A special tribute was also paid to four men for the role they have played for the World Coalition Against the Death Penalty and the World Congress: Bill Pelke, from Journey of Hope… From Violence to Healing, an organization made of families of murder victims and families of people sentenced to death in the USA, who believed that through love and compassion, everyone could make this world a better place. Roger Hood who in addition to be a renewed scholar with the Oxford Centre for Criminology was also a mentor and a trusted friend to many abolitionist organisations. Renny Cushing who brought his deep humanity, his brilliant mind, his embracing heart and his genius wit to have the voice of murder victim families who oppose the death penalty heard in the abolitionist movement and who, as a member of the New Hampshire legislature in the USA made death penalty abolition come true in his state in 2021. Edgardo Román Espada, former president of the Puerto Rico Bar Association and Puerto Rican Coalition Against the Death Penalty, who had played a critical role when Federal death sentences were handed down in abolitionist Puerto Rico and has been a friendly and joyful figure in the movement.
Closing remarks by World Coalition's Vice President Connie Numbi
"The 8th World Congress is coming to an end. It's been over 20 years since the 1st one and our commitment to worldwide abolition of the death penalty is fully renewed. Over the last few days, we have looked at the future generation of abolitionists, we see what the movement can now become, and we leave with the hope to see secure abolition of the death penalty worldwide. We are inspired by the speakers we listened to, by the quality of the debates, the wealth of information shared and the solidarity within the movement."
"We have also touched upon the deeply political nature of the death penalty. Let Iran and Singapore, Saudi Arabia and the USA, China and Egypt know that the world is watching!"
"To countries that do not use the death penalty but are yet to make that final change: we are here to extend our hand, we will work together in order to declare that the death penalty has been formally abolished."
"To all of us, fellow abolitionists, and especially to the younger ones: we have the power to put an end to this cruel punishment. Let's do it!"
The ceremony ended with a collective demonstration right in front of the "Rotes Rathaus" to demonstrate and chant our purpose and goal – to abolish the death penalty worldwide.