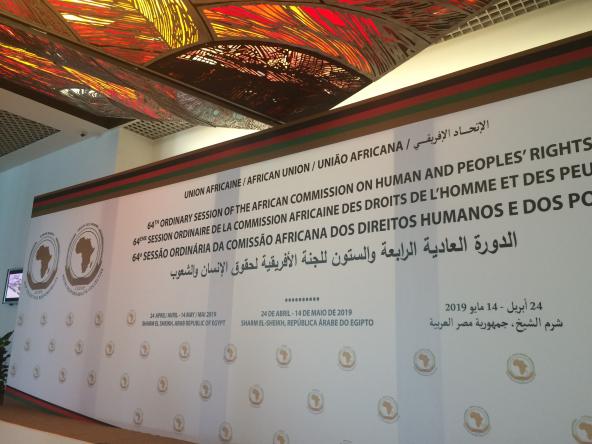 The ACHPR Moves Online, along with Advocacy to End Capital Punishment
ACHPR
As much of the world continues to battle the coronavirus pandemic, the ACHPR (the African Union's human rights branch) decided to hold their 66th Ordinary Session via online platform Zoom from Monday 13 July to Friday 7 August 2020. This marks the first time the ACHPR has met for a session through a virtual space. Despite the novelty of the situation, there was still space for civil society organizations to interact. Prior to the opening ceremony of the session, the World Coalition, and six member organizations with the ACHPR observer status, submitted an oral declaration regarding the death penalty on the African continent and the COVID-19 pandemic.
While there were no panels planned during the sessions, as there usually are, each thematic working group within the ACHPR presented an activity report of work done since the previous session. The Working Group on the Death Penalty, Extrajudicial, Summary or Arbitrary Killings and Enforced Disappearances in Africa was amongst those whose report was presented.
Likewise, the African Centre for Democracy and Human Rights Studies also held their NGO Forum for civil society prior to the ordinary session on the 9th and 10th July 2020. Set up to allow for civil society organizations to make the most of the upcoming session, the Forum allowed for the meeting of special interest groups, of which a group dedicated to the discussion of the death penalty on the African continent.
Given the nature of this ordinary session, there was no training opportunity provided to World Coalition members on how to advocate with the ACHPR mechanism. Nevertheless, a training manual was developed by the World Coalition for NGOs, How to Work with the African Commission on Human and Peoples' Rights for the Abolition of the Death Penalty and launched in March 2020. Available digitally, this guide provides the foundation of advocacy work with this human rights mechanism.
Photo Credit: WCADP- ACHPR 65th Ordinary Session, in April 2019, Egypt.