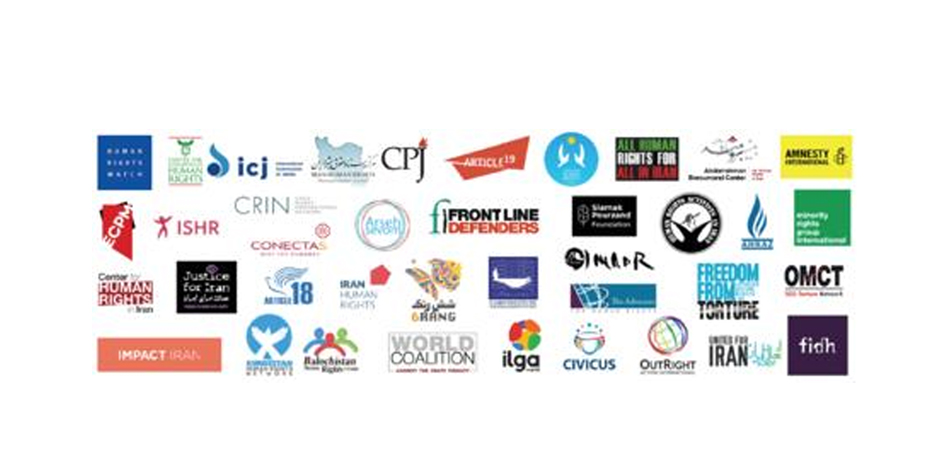 Widespread and systematic violations of human rights in Iran
Statement
Joint letter sent to Member states of the United Nations Human Rights Council on 12 March 2021
We, the undersigned Iranian and international human rights organisations, call on your government to support the renewal of the mandate of the United Nations Special Rapporteur on the situation of human rights in Iran at the 46th session of the Human Rights Council. We also urge your government to use this opportunity to voice concern at the grave and systematic violations of human rights reported by the Special Rapporteur, and to call on Iranian authorities to put an end to the endemic impunity that surrounds these violations.
The renewal of this mandate is essential in light of the persistence of widespread and systematic violations of human rights committed by Iranian authorities with total impunity.
Iran remains second only to China in the number of executions carried out each year. In 2020, the authorities executed more than 240 people, including for drug offences and other acts that do not amount to the 'most serious crimes' under international law. Several people were executed in secret without prior notice to their families and lawyers. Among those executed was dissident and journalist Ruhollah Zam who was sentenced to death in connection with his anti-establishment social media news channel. Several protesters were sentenced to death and dozens of others faced capital crimes in relation to the nationwide November 2019 protests. The Iranian authorities executed at least three juvenile offenders in 2020, in violation of international law and despite repeated calls from UN bodies and member states for Iran to cease this unlawful practice and high-level bilateral engagement with the Office of the High Commissioner for Human Rights on this issue.
Fair trial rights continue to be systematically violated, making the hundreds of death sentences, corporal punishment sentences and long prison terms issued all the more egregious. The UN Working Group on Arbitrary Detention has raised alarm at 'a familiar pattern of arrest and detention that does not comply with international norms', including 'lengthy detention pending trial with no access to judicial review; denial of access to legal counsel; incommunicado detention and solitary confinement; prosecution under vaguely worded criminal offences for the peaceful exercise of human rights; a closed trial and appeal by courts lacking in independence; disproportionately harsh sentencing; torture and ill-treatment; and denial of medical care'. In addition to these concerns, courts consistency rely on forced 'confessions' extracted under torture and other ill-treatment to issue convictions, as in the recent case of Navid Afkari, executed on 12 September 2020.
The Iranian authorities continue to routinely arbitrarily arrest, detain and sentence individuals to prison terms and flogging for the exercise of their rights to freedom of expression, association and peaceful assembly. Among those who are targeted are protesters, media workers, journalists, political dissidents, artists, writers, and human rights defenders, including lawyers, women's rights defenders, labour rights activists, minority rights activists, conservationists, anti-death penalty campaigners and those demanding truth, justice and reparation for the mass extrajudicial executions of the 1980s.
(…) Ethnic minorities, including Ahwazi Arabs, Azerbaijani Turks, Baluchis, Kurds and Turkmen continue to face entrenched discrimination, which curtails their economic, social, cultural and other rights. The High Commissioner has recently noted that 'an apparently coordinated campaign has been targeting minority groups since December, including in Sistan and Balochistan; Khuzestan; and in the Kurdish provinces. Mass arrests and enforced disappearances have been reported, as well as increasing numbers of executions, following deeply flawed processes' . Some ethnic minorities have also been disproportionately affected by the imposition of the death penalty in 2020.
(…)
Signatories:
Abdorrahman Boroumand Center for Human Rights in Iran (ABC)
The Advocates for Human Rights
All Human Rights for All in Iran
Amnesty International
Arseh Sevom
Article 18
ARTICLE 19
Association for the Human Rights of the Azerbaijani people in Iran (AHRAZ)
Association for Human Rights in Kurdistan of Iran – Geneva (KMMK-G)
Balochistan Human Rights Group
Cairo Institute for Human Rights Studies
Center for Human Rights in Iran
Centre for Supporters of Human Rights
Child Rights International Network (CRIN)
CIVICUS – World Alliance for Citizen Participation
Committee to Protect Journalists (CPJ)
Conectas Direitos Humanos
Ensemble Contre la Peine de Mort (ECPM)
Freedom from Torture
Frontline Defenders
Human Rights Activists in Iran (HRAI)
Human Rights Watch
Impact Iran
International Commission of Jurists
International Federation for Human Rights (FIDH)
International Lesbian, Gay, Bisexual, Trans and Intersex Association (ILGA World)
International Movement Against All Forms of Discrimination and Racism (IMADR)
International Service for Human Rights (ISHR)
Iran Human Rights
Iran Human Rights Documentation Center
Justice for Iran
Kurdistan Human Rights Network
Minority Rights Group International
OutRight Action International
Siamak Pourzand Foundation
United for Iran
World Coalition Against the Death Penalty
World Organization Against Torture (OMCT)
6Rang – Iranian Lesbian & Transgender Network